Smithsonian National Museum of Natural History
Image
Smithsonian Marine Station
News
Lots of people kick off the new year with resolutions that involve exercise. But will you start out in 2020 by lifting tons of equipment and sediment? 
Like many of Florida's coastal regions, St. Lucie and Martin counties are home to an abundance of marine resources: beaches, mangrove swamps, estuarine lagoons, seagrass beds.
Yet many families who live in the region lack access to these natural assets, despite their proximity to the ocean. Whether it's the economics of their home environment, or that their schools simply don't have the resources for field trips, many children have never been to the sea.
New partnership brings students to the Mesoamerican Reef
What do you give a group of Belizean schoolchildren when they visit the Smithsonian's Carrie Bow Cay field research station?
A bunch of hammers, of course.
Seagrass meadows are a hidden gem of the coastal ocean zone. While not as apparent as mangroves, nor as celebrated as coral reefs, seagrasses are just as essential to the health of many of the world's tropical and temperate coasts. They help stabilize sediment, clean the water column of excess nutrients, act as carbon sinks, and serve as protective nurseries for many species of fish and shellfish. Even the grasses themselves are food for larger species like sea urchins, sea turtles, parrotfish and manatees. 
Third time's the charm: this summer, a team of Smithsonian interns learned the truth of that saying by earning a spot in an international marine robotics competition.
Science-y, marvelous, educational. Fun, fun, fun.
These were just a few of the responses people gave when asked to describe the Indian River Lagoon Science Festival in one word. The consensus is clear: visitors delighted in learning about the rich blend of science-oriented work going on up and down Florida's Treasure Coast.
An exhaustive effort is underway to catalog some of the Indian River Lagoon's less obvious residents: marine invertebrates. To better understand what lives in the lagoon as well as how they're getting there, a team of biologists from the Smithsonian Marine Station and several other institutions took part in a two-week collections blitz in March and April.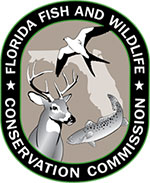 The staff of the SMS and SMEE are grateful for the ongoing support provided by the Florida Fish and Wildlife Conservation Commission through the Fish and Wildlife Research Institute. These funds allow us to conduct a number of research and education activities that would otherwise not be possible.