Smithsonian National Museum of Natural History
Smithsonian Exhibit at the St. Lucie County Aquarium
The Smithsonian Exhibit at the St. Lucie County Aquarium (SMEE) is open.
The Smithsonian Exhibit at the St. Lucie County Aquarium (SMEE) is back to business as usual!
The Smithsonian's Ecosystem Exhibit's (SMEE) unique exhibits are much more than fish tanks: they are model ecosystems! Come view the thriving underwater worlds of the Indian River Lagoon and Atlantic Ocean, visit the touch tank, and enjoy hands-on interactive activities!
For information on field trips and group visits to the Aquarium, including information about virtual field trips, please visit our Field Trips and Group Visits page.
Unable to visit in person? Please visit our Distance Learning Resources page for a virtual visit.
Not everything goes to sleep when the lights go out! 
The Smithsonian Marine Ecosystems Exhibit at the St. Lucie County Aquarium is excited to welcome back its popular seasonal event "Aquarium After Dark" in December. As darkness descends upon the aquariums, adults, and children ages five and up are invited to experience nightlife in the aquarium. Watch as daytime animals retire for the night and the creatures of the night emerge. The doors will open as the sun is setting on the exhibits -- a perfect time to see nocturnal animals begin to wake up in their newly darkened environment. After a pizza dinner on the patio, enjoy a brief and fascinating presentation about nightlife in the ocean. Using special Ultraviolet (UV) flashlights, visitors will witness corals that fluoresce brilliant greens, yellows, and oranges in response to UV light. Nocturnal creatures like cardinalfish, clinging crabs, shrimps, and serpent sea stars venture far from their daytime retreats to search for food once the lights go out. Advanced registration and payment are required as space is limited for this exciting educational evening of family fun and exploration. 
Dates: Friday December 8th, Friday January 5th, and Friday February 2nd from 5:45 PM to 8:00 PM 
Hurry, these dates fill fast! 
Prices for Aquarium After Dark Event (dinner included): 
Non-members: $15 adults / $13 children (Ages 5+ only) 
Members: $13 adults / $11 children (Ages 5+ only) 
Register by calling 772-465-3271 or emailing SMSEducation@si.edu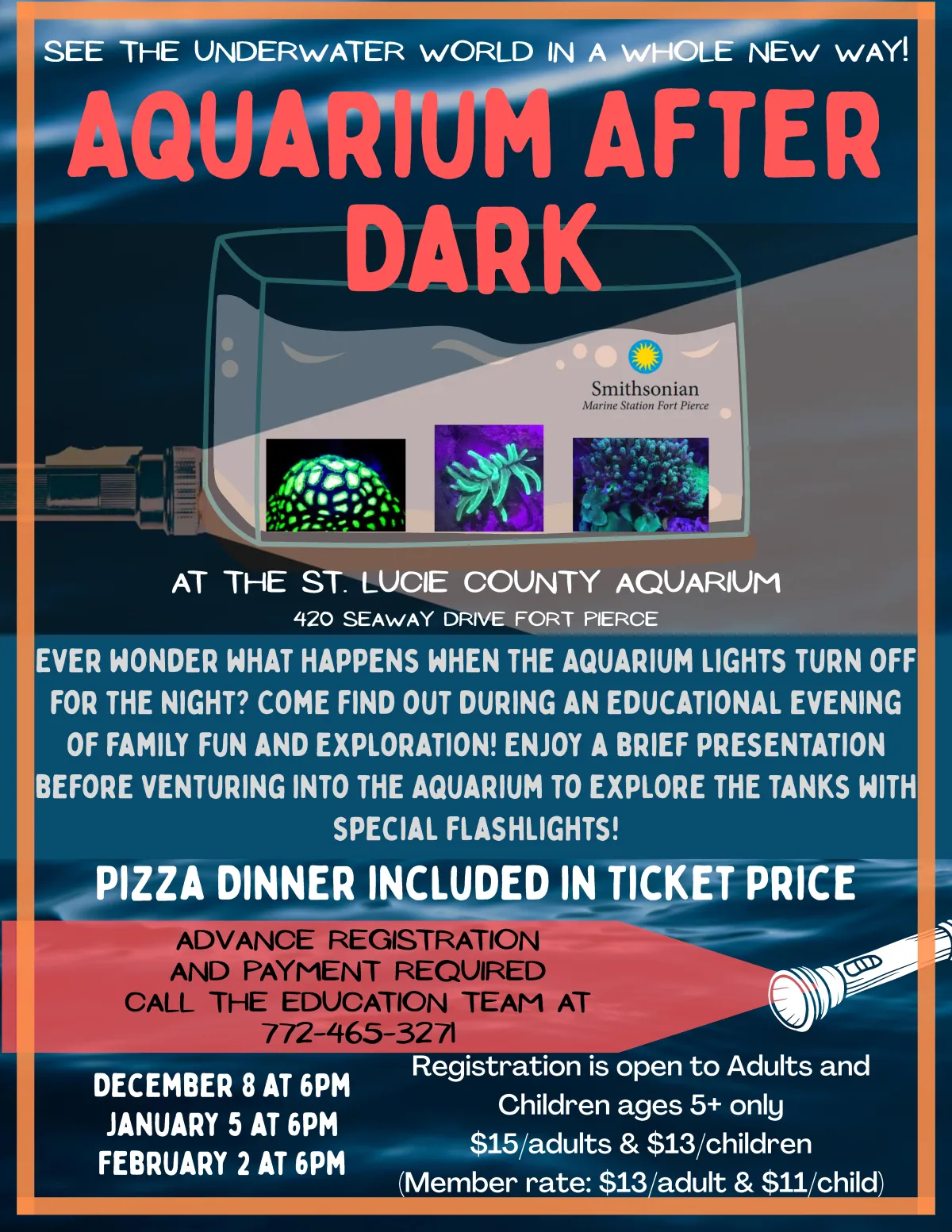 Hours:
Monday
Closed
Tuesday - Saturday
10 a.m. to 4 p.m.
Sunday
12 p.m. to 4 p.m.
*Open on Mondays only from Jan-March
Admission:
General Admission
Adults: $4.25
Seniors 55+:  $3.25
Children 4 to 17 years old: $3.25
Children under 4 are free.
Group rates and field trips (non-tax exempt)
Adults: $3.75
Children 4 – 17: $2.75
Seniors 55+:  $2.75
Group rates and field trips (tax exempt)
Adults: $3.50
Children 4 – 17: $2.54
Seniors 55+:  $2.54
Joint Tickets (includes Regional History Center)
Adults: $7.25
Seniors: $5.25
Children 4 – 17: $4.25
Seining
Non-tax exempt: $5.50
Tax exempt: $5.08
Contact us:
General information: 772-462-3474
Education programs: 772-465-3271
SMSEducation@si.edu
Location:
420 Seaway Drive
Fort Pierce, FL 34949