Smithsonian National Museum of Natural History
Probiotics show promise for coral disease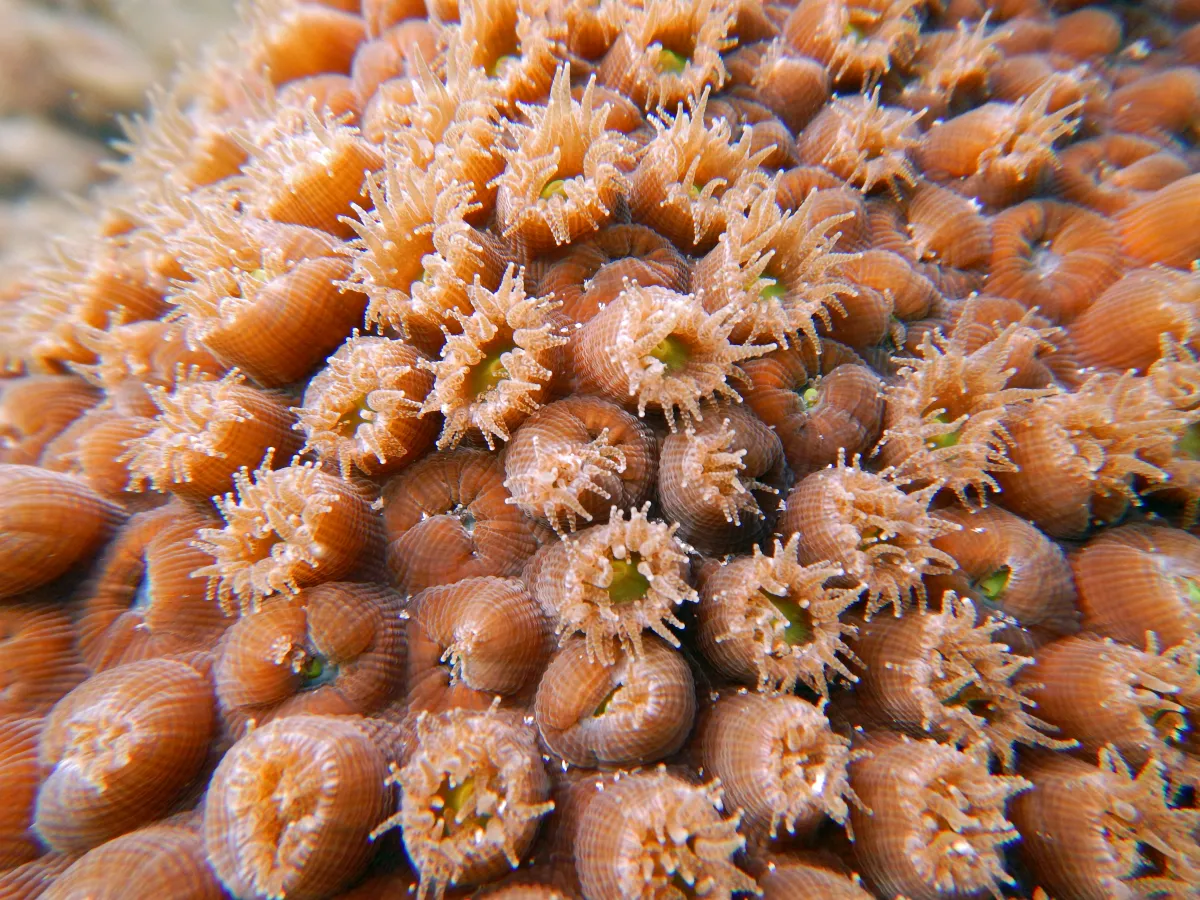 As a deadly, years-long epidemic continues to devastate Florida's coral reefs, a team of Smithsonian Marine Station scientists have found that at least part of the answer may lie in the protective power of probiotics.
Since the first disease signs appeared near Miami in late 2014, stony coral tissue loss disease (SCTLD) has now spread to affect more than 96,000 acres of coral reef, stretching 360 miles from Fort Lauderdale in the north to Eastern Dry Rocks in the lower Keys. As of early 2019, observers reported that the disease spread to the U.S. Virgin Islands and the Dominican Republic, and in July, the first signs were reported in Belize.
Of the 45 species of reef-building corals that occur on the Florida reef tract, 22 species have been particularly hard hit—some dying in days, such as maze coral (Meandrina meandrites) while others can languish for months to years, like mountainous star coral (Orbicella faveolata). Some have survived an initial onslaught, but are now succumbing to subsequent waves of the disease.
Yet the disease is not perfectly thorough: some individual coral colonies seem able to fight off the mystery malady that can kill neighbors of the same species in mere days to weeks.
With support from a large team of researchers from the Smithsonian Marine Station (SMS) and scientists at other institutions, Dr. Blake Ushijima, a George Burch Fellow at SMS, has identified at least one probiotic, a member of the beneficial bacterial community living on healthy great star corals (Montastraea cavernosa), which seems to contribute to disease resistance.
A beneficial relationship
As in the human gut, corals are home to complex communities of microorganisms including bacteria, fungi and protists. Also, as in humans, some members of these communities seem to impart a stronger protective factor for their particular host. When harmful bacteria try to invade, the beneficial bacteria are able to repel or even kill the newcomers.
"These bacteria are either outcompeting other pathogens, or producing antibacterial compounds—perhaps antibiotics, or some kind of toxin—that kills pathogenic bacteria," Ushijima said. "The hope is that we can isolate something that's not only effective, but also feasible to use outside of the lab."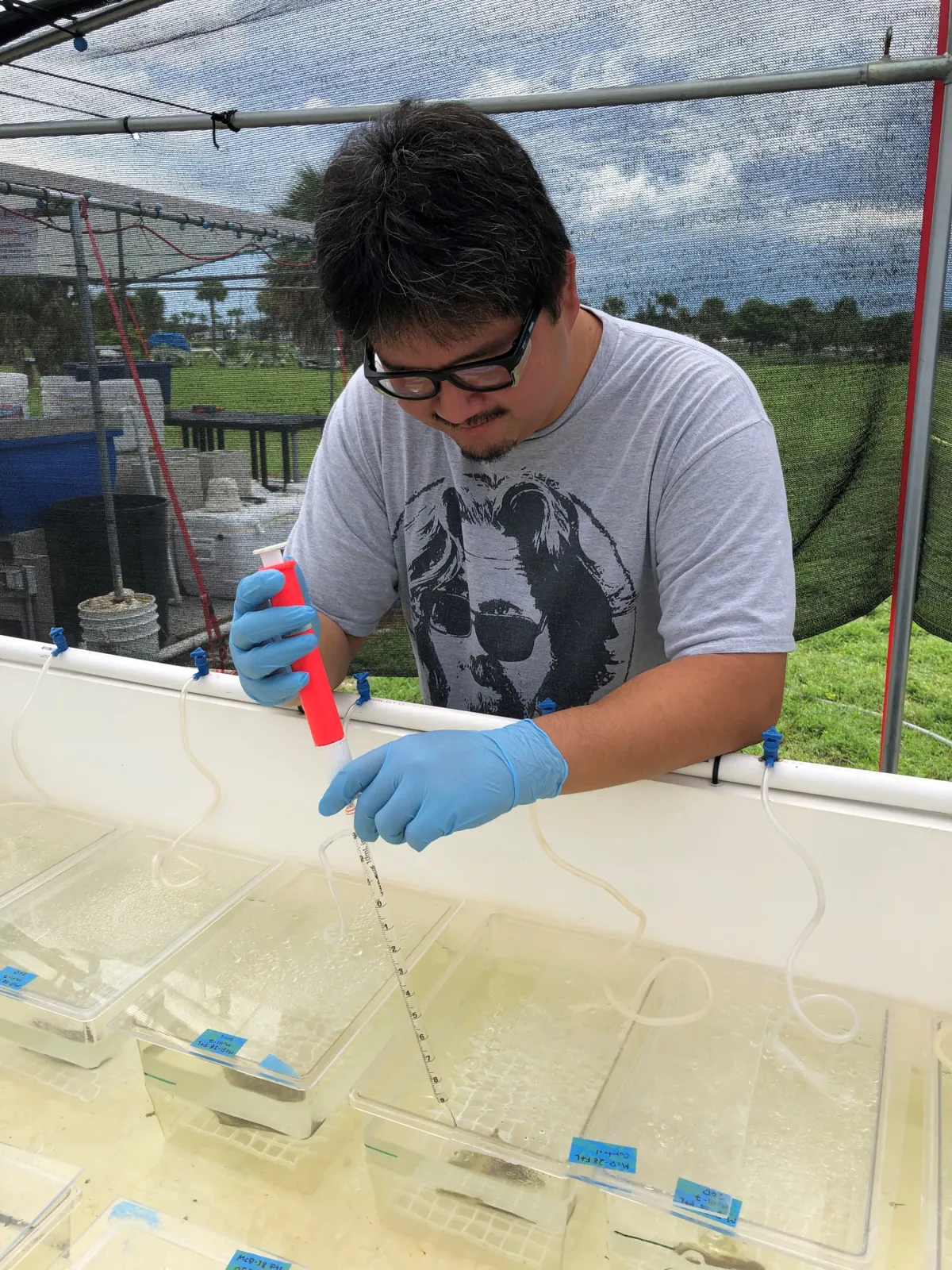 Though exact signs and rate of disease progression vary among affected species, a typical early sign of infection is a thin band of dead tissue that appears at the base of the coral colony. Blotchy lesions follow, which grow in size until they eventually unite, sometimes across the entire surface of the colony.
Ushijima, whose previous research involved developing probiotic treatments for the shellfish industry, is working with Smithsonian marine chemist Dr. Sarath Gunasekera to identify and test a library of more than 600 coral-derived bacteria on cultures of harmful bacteria collected from diseased corals. After identifying a handful of promising candidates, further experiments revealed that one "probiotic" strain in particular was able to kill a broad range of damaging bacteria.
Testing the potential probiotic directly on samples of diseased M. cavernosa in the lab, Ushijima observed that adding the bacterium to diseased corals in aquaria was able to slow or completely halt the advance of disease.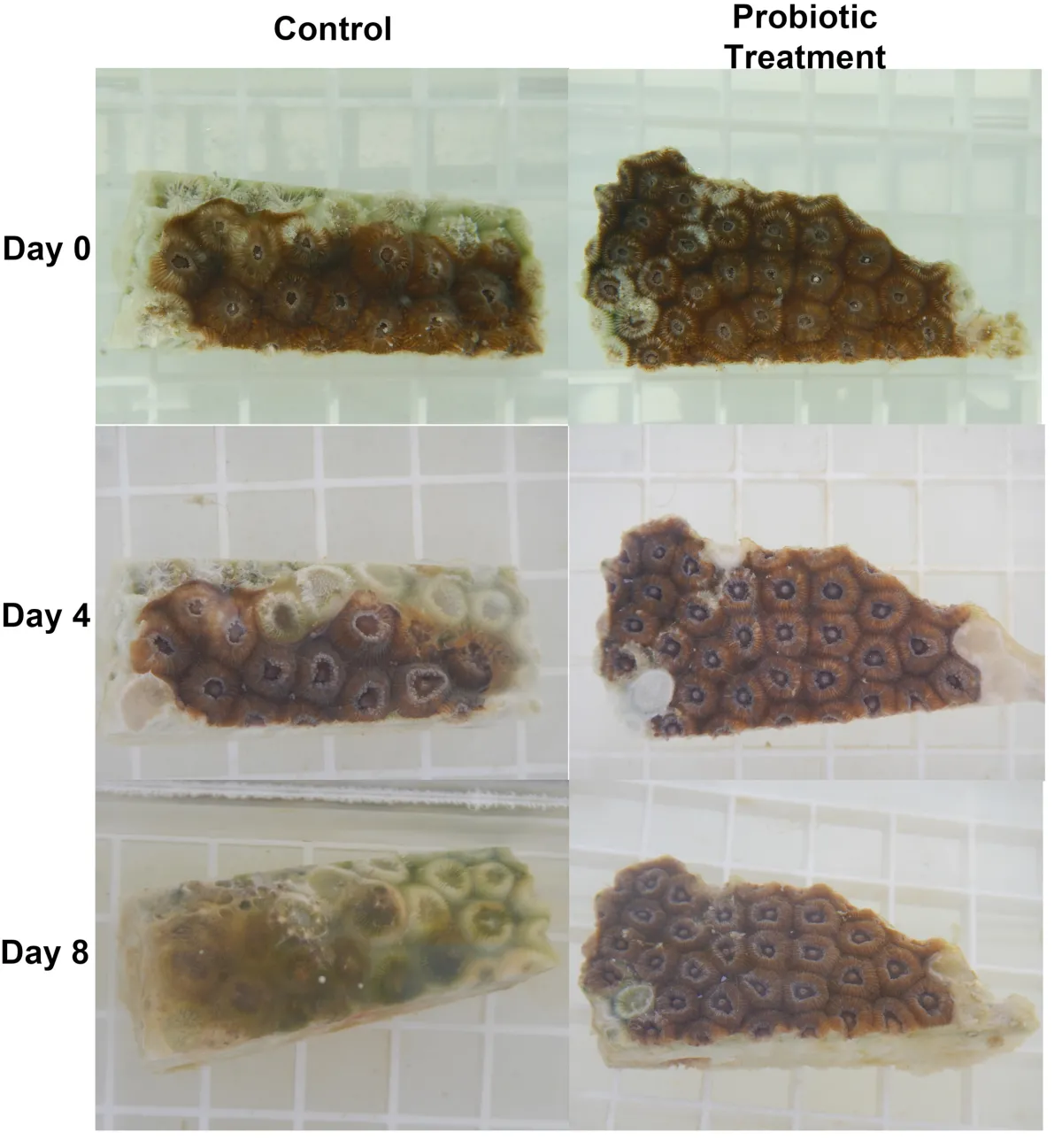 It's the first time such an effect has been produced for any intervention that has been tested to date.
And when diseased corals are put in close proximity to healthy corals treated with the probiotic, the beneficial effects seem to "jump" to the diseased fragment, slowing or stopping disease progression there as well. The probiotic-treated healthy fragments also appear to be more disease-resistant, which could greatly benefit broader attempts to re-plant corals in areas where the disease has already ravaged Florida's reefs.
The probiotic turned out to produce the antibiotic korormicin, which only affects other marine bacteria and is not a threat to humans or animals. Gunasekera and Smithsonian Marine Station biologist Dr. Jennifer Sneed worked with Ushijima's student, Sharon Thompson, to isolate and characterize the antibiotic.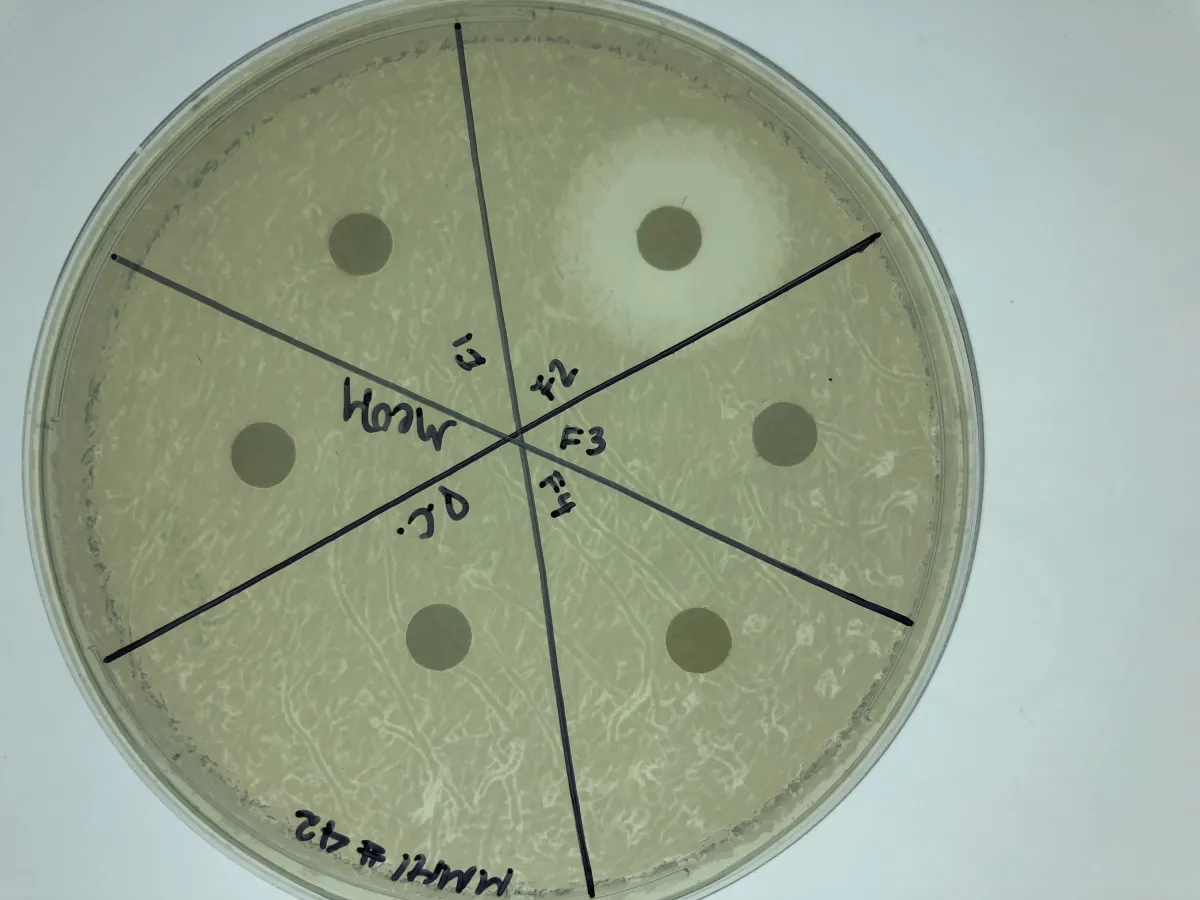 Dr. Julie Meyer, of the University of Florida, then aided in sequencing the genome of the probiotic. Meyer found genes associated with the production of two other known antibacterial compounds: marinocine, a broad-spectrum antibacterial, and tetrabromopyrrole—which also plays a role in settlement of certain kinds of coral larvae, as described in a 2011 study by Sneed.
Along with continuing his work on samples of M. cavernosa, Ushijima is currently developing additional probiotic treatments as well as researching other factors that influence disease resistance and susceptibility.
Finding the source
The Smithsonian's involvement in investigating the disease began in May 2017, when the director of the Smithsonian Marine Station, Dr. Valerie Paul, received funding from the National Science Foundation to begin work on identifying the responsible organism—or organisms. Working with Paul were Dr. Greta Aeby, of the University of Hawaii; and Dr. Claudia Häse and Ushijima, then at Oregon State University.
The SMS team's main research focus remains identifying which microorganisms are behind the initiation of the disease. Ushijima said the probiotic treatments may just be combating second-wave attacks by pathogens that move in after the initial infection by a still-unknown primary agent.
Along with looking at viruses as possible candidates, Ushijima is also working with Meyer to sequence the DNA of all organisms that are present on diseased as well as healthy corals. The aim of this "metagenomic analysis" is to gain a clearer picture of what microbes are there, and learn if there is anything unique to diseased corals that may be a disease-causing agent.
"Unfortunately, there are not many coral pathogens that have actually been identified," Ushijima said. "It's a very complex situation. And these reef builders—they are the reef. When they die, the reef will disappear."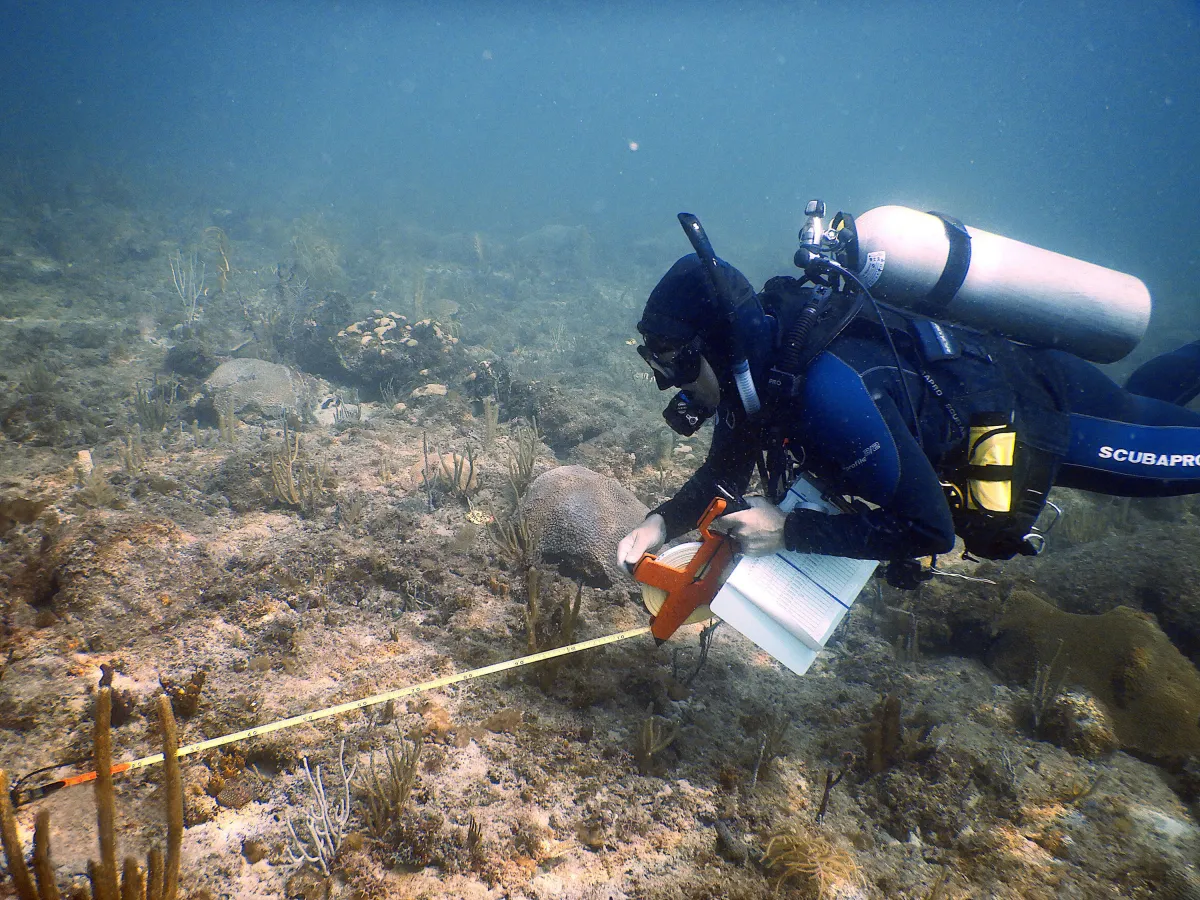 Numerous other SMS staff have been involved in the research effort. Alongside coordinated work by Ushijima, Sneed and Gunasekera, Paul and SMS Program Coordinator Scott Jones spent approximately 50 hours on dives to collect diseased coral samples for research. SMS research technicians Jay Houk and Woody Lee were also instrumental in setting up the tanks and systems to house the corals at the station. And with Aeby, Paul has been monitoring disease progression in colonies that were tagged in July 2017.
Additional funding from the U.S. Environmental Protection Agency and the Florida Department of Environmental Protection support continuing research efforts.
"The scope and scale of this disease requires a large team effort and coordination with other coral biologists in Florida," said Paul. "It is a devastating problem already impacting the entire Florida Reef Tract, and there has been tremendous cooperation among state agencies, universities and research organizations in response."
Saving corals for the future
While a probiotic treatment could eventually be used in the open reef tract, the more immediate goal is to protect healthy corals that are being harvested and housed in land-based aquaria across the country—a distributed coral "seed bank" that can eventually be drawn upon to replant the reefs once the disease has dissipated or been eliminated.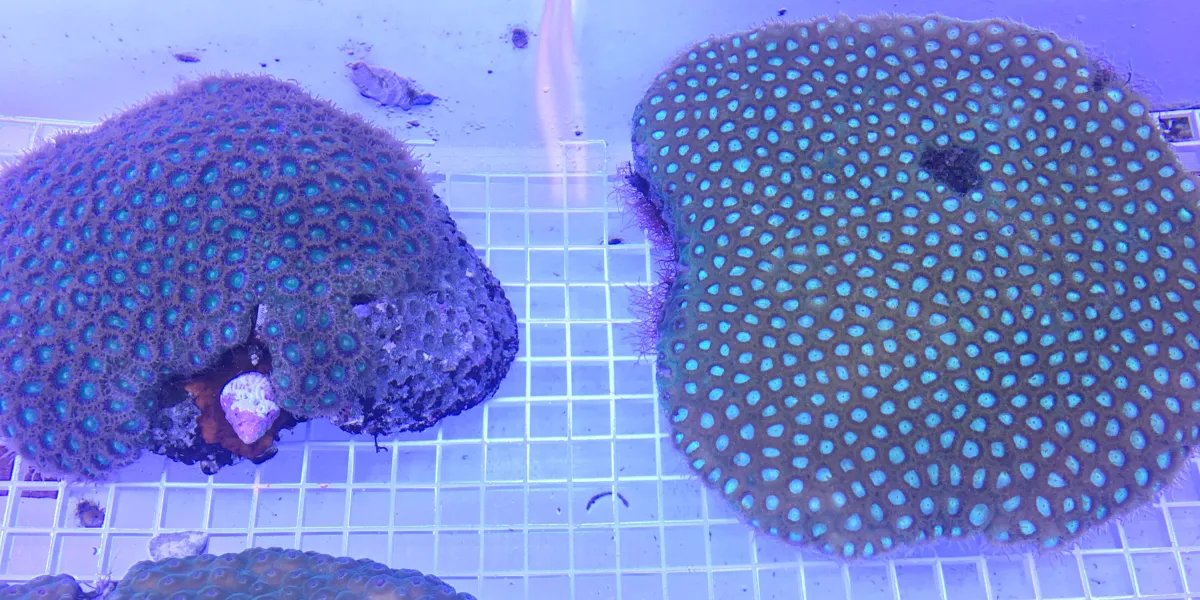 Maurizio Martinelli, the coordinator for state and federal coral disease response efforts with Florida Sea Grant, said Ushijima's work is one of the first promising advances that may eventually result in a treatment option for whole colonies in the reef tract. One of the main approaches being tested involves labor-intensive spot treatments of individual coral colony lesions.
"It's one of the most exciting developments recently," Martinelli said. "We think it's a great opportunity to treat colonies more holistically, which has been the goal from the beginning."
Martinelli noted that another possible benefit may be that as probiotic-inoculated corals are replanted on the reef, their beneficial bacterial communities can spread to other corals, combining the effort of reef restoration with disease intervention.
Ushijima also holds hope.
"Even if we are unable to save the currently infected corals, there is a chance we can protect future generations," he added.
--Michelle Z. Donahue
August 2019