Smithsonian National Museum of Natural History
As temps rise, seagrass meadows face an uncertain future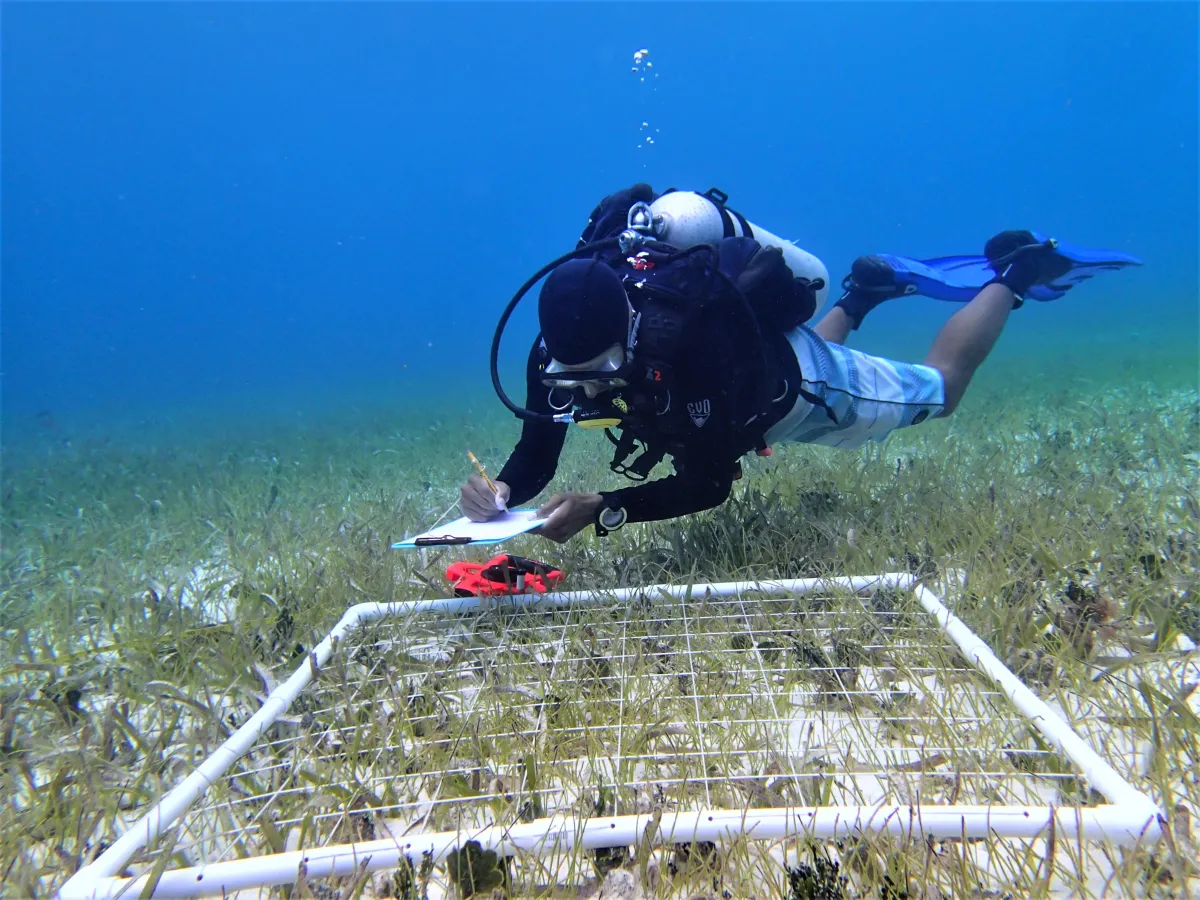 A broad study in the Gulf of Mexico aims to predict the long-term health of a cryptic marine ecosystem
by Michelle Z. Donahue
Seagrass meadows are a hidden gem of the coastal ocean zone. While not as apparent as mangroves, nor as celebrated as coral reefs, seagrasses are just as essential to the health of many of the world's tropical and temperate coasts. They help stabilize sediment, clean the water column of excess nutrients, act as carbon sinks, and serve as protective nurseries for many species of fish and shellfish. Even the grasses themselves are food for larger species like sea urchins, sea turtles, parrotfish and manatees.
Yet these meadows are under threat. Across the globe, seagrass regions are shrinking by 7 percent each year, besieged by nutrient runoff, overfishing and disease. Climate change has emerged as another potential threat to the health of these valuable habitats—warming waters not only impact seagrass health, but are also prompting seagrass grazers to begin moving into cooler meadows at higher, more temperate latitudes.
How the addition of new herbivores will further affect the health and resilience of subtropical meadows is a big question mark—especially since subtropical meadows receive fewer daylight hours each year and experience colder seasonal temperatures, reducing annual growth rates. If these subtropical grasses cannot regrow as quickly as the hungry new arrivals nibble them down to the roots, they'll be unable to perform many, if not all, of their critical ecosystem functions.
To better understand and predict how subtropical seagrass meadows respond to increased grazing pressure, Smithsonian Marine Station researcher Dr. Justin Campbell is conducting a year-long comparative study at 13 sites scattered across the Caribbean, northern Gulf of Mexico and Bermuda. With assistance from postdoctoral researcher Dr. Olivia Rhoades, Campbell's project seeks to quantify whether the amount of light and temperature these meadows receive influences the way these systems respond to increased grazing by tropical herbivores.
Along with an army of local assistants at 11 partner institutions, Campbell and Rhoades set up 50 seagrass plots at each site, for a total of 650 experimental units. Each plot consists of a small patch of seagrass that can be manipulated independent of the others. At each site, 40 mesh-covered cages exclude nearby grazers, while 10 un-caged control plots allow fish, urchins and turtles to freely graze.
To simulate the effects of increased grazing, researchers clip back the grass in some of the caged plots using a pair of scissors, but leave others untrimmed. Every four months, Campbell's team harvests leaf and root samples to measure growth rates, biomass, seagrass density, and the chemical composition of the seagrasses in each plot. By comparing seagrass health across the network of sites, Campbell hopes to get an overall indication of how well the plants are tolerating increased grazing. The measurements will also help him quantify changes in the ecological services the meadows provide, such as fisheries support, nutrient storage and sediment stabilization.
"We've only recently recognized that many of these meadows are actually able to store a tremendous amount of carbon and prevent it from re-entering atmosphere," Campbell said. "With the growing threat of climate change, it's important to protect these ecosystems for all the benefits they provide."
Early results in Bermuda, where sea turtle populations are thriving as a result of strong conservation efforts, aren't encouraging. Some areas that were once lush with grass are now completely stripped of vegetation—except inside the protected caged plots that are part of Campbell's study. However, Campbell noted that this shouldn't be taken as a harbinger of things to come in all areas where tropical grazers are migrating.
"One thing we've found is that even though we're working with the same species of seagrass, each site is complex, and the responses documented across the network will partly be site-specific. Our goal is to understand what makes each site unique, and which local environmental or biological factors are responsible for driving seagrass responses to altered grazing."
The project is supported by a $700,000 grant from the National Science Foundation.
April 2019