Smithsonian National Museum of Natural History
In Memoriam: Sherry Anne Reed, 'the heart of SMS'
In Memoriam: Sherry Anne Reed, 'the heart of SMS'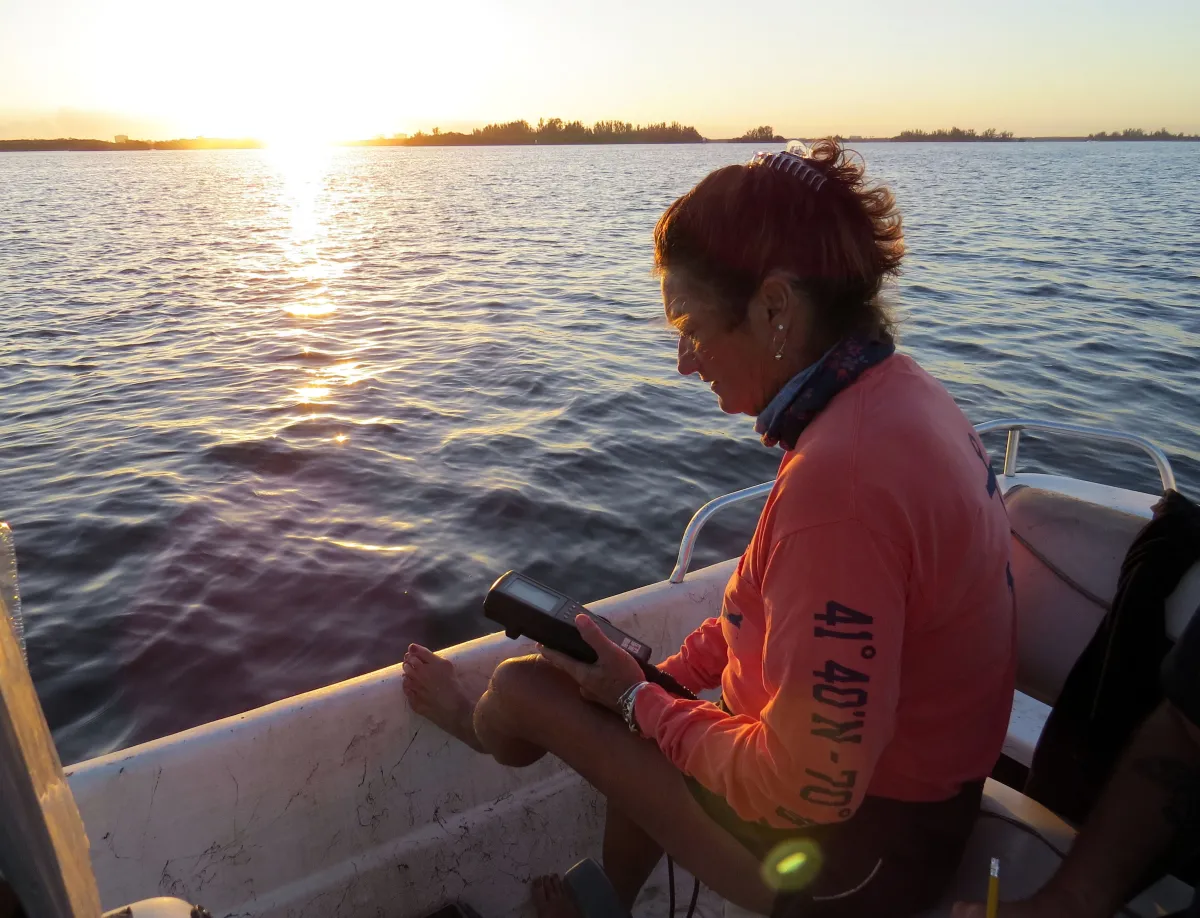 February 2, 1959 – December 16, 2019 
On a blustery day last March, Sherry Reed walked out onto a newly completed replacement for a dock destroyed by Hurricane Irma in 2017, checking on a pair of technicians completing some electrical work. With a warm smile, she greeted the workers and inquired after their needs.
But her customary calm and confident demeanor froze when asked to pause for a quick snapshot to accompany an article to be written about her. She assented, with reluctance, progressing from downright hand-wringing to flinging her arms wide into a nervous ballet pose.
"I never know what to do," she laughed.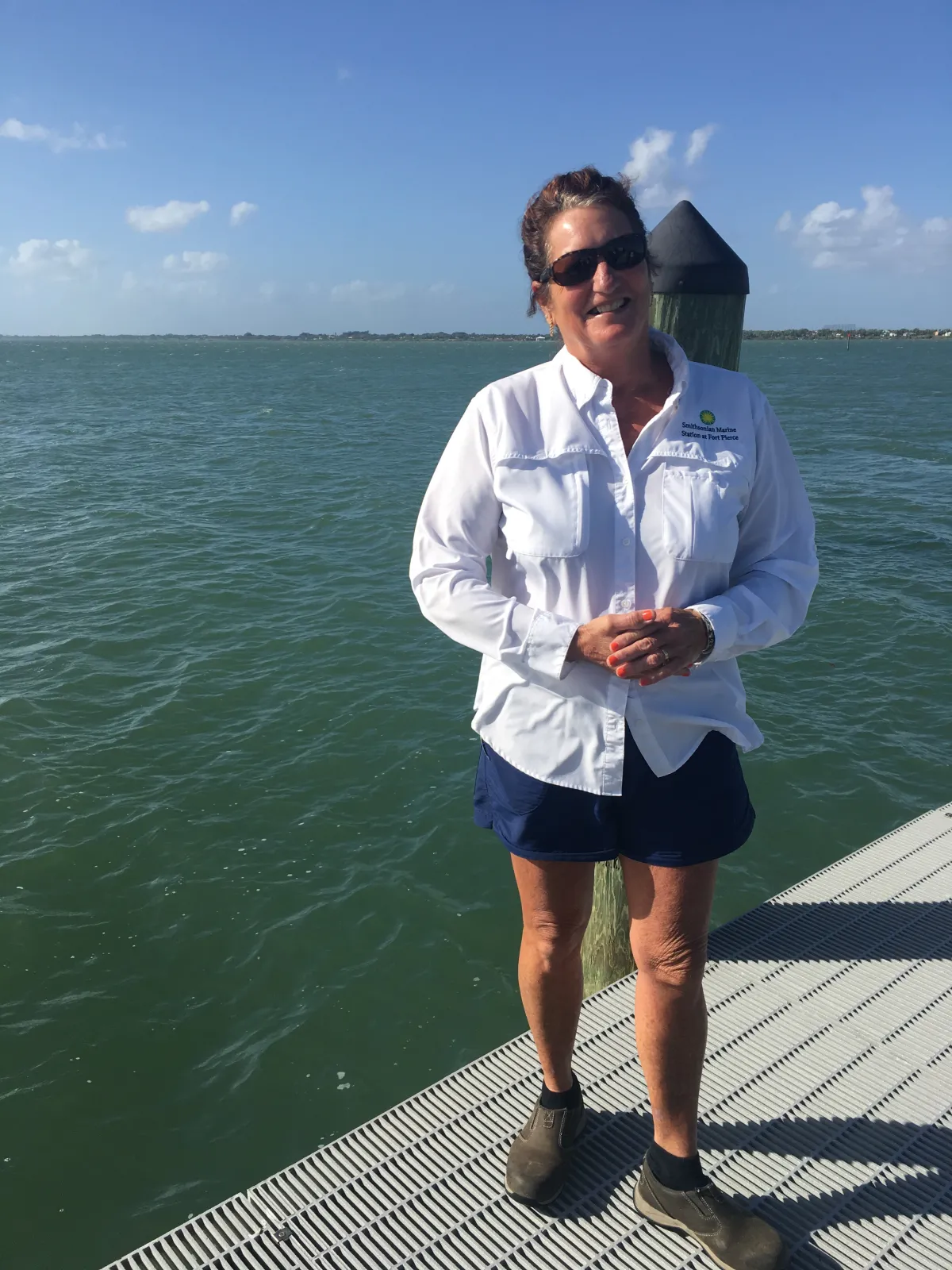 (Photo: Michelle Donahue)
Safely out of the camera's eye, Sherry thawed back into conversational comfort, discussing field sampling, plankton tows and maintenance horror stories from her time as the Smithsonian Marine Station manager, a role she assumed in 2015.
On December 16, 2019, at the age of 60, Sherry passed away in Fort Pierce after a brief battle with cancer, surrounded by friends, family and her beloved husband John Reed. She spent the entirety of her career with the Smithsonian, and for 36 years, her curiosity, kindness, professionalism and boundless generosity endeared her to legions of scientists, researchers, support staff, interns and countless visitors.
In her personal life, two deep passions included cooking and creating gifts for others from scratch. But she knew from a very tender age that marine biology was her calling.
"I knew when I was 12 years old that this was what I wanted to do – I told my parents that I wanted to collect pretty shells for a living," she recalled in the 2019 interview. Then, while in the field in Tampa collecting left-handed whelks (Sinistrofulgur sinistrum) with a visiting scientist, it dawned on her that her self-prediction had more than come true. "I was on this beautiful mud flat, collecting pretty shells for a living—and everyone laughed at me when I was 12."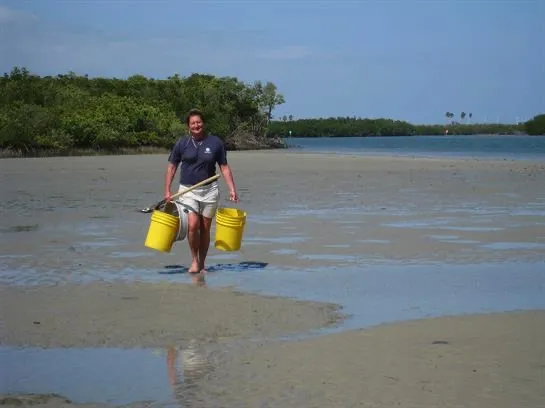 Throughout her tenure at SMS, Sherry's assistance was crucial to the success of many scientists' field research. (Photo: John Reed)
Immediately after graduating Wheaton College in Massachusetts in 1982 with a degree in biology, Sherry joined the National Museum of Natural History, where she assisted Clyde Roper in curating the mollusk and octopus collections. In 1983, she transferred to the Smithsonian Marine Station at Link Port, then located on the campus of Harbor Branch Oceanographic Institution in Fort Pierce, Florida, starting as a biological research assistant.  She quickly assumed a significant role in field operations and was instrumental in the success of the Visiting Scientist Program, which brought scientists from around the Smithsonian and their colleagues from around the world to conduct research in Florida. She was promoted to station manager in 2015.
Working closely with career scientists including Marty Buzas, Mark and Diane Littler, and many others both within and beyond the Smithsonian, Sherry provided critical field support that resulted in the production of a wide variety of publications, including a comprehensive textbook on Caribbean reef plants. Her deep knowledge of macroalgal species took her around the world as an algal taxonomist, working in locations including New Guinea, the Canary and Cape Verde Islands, and Honduras.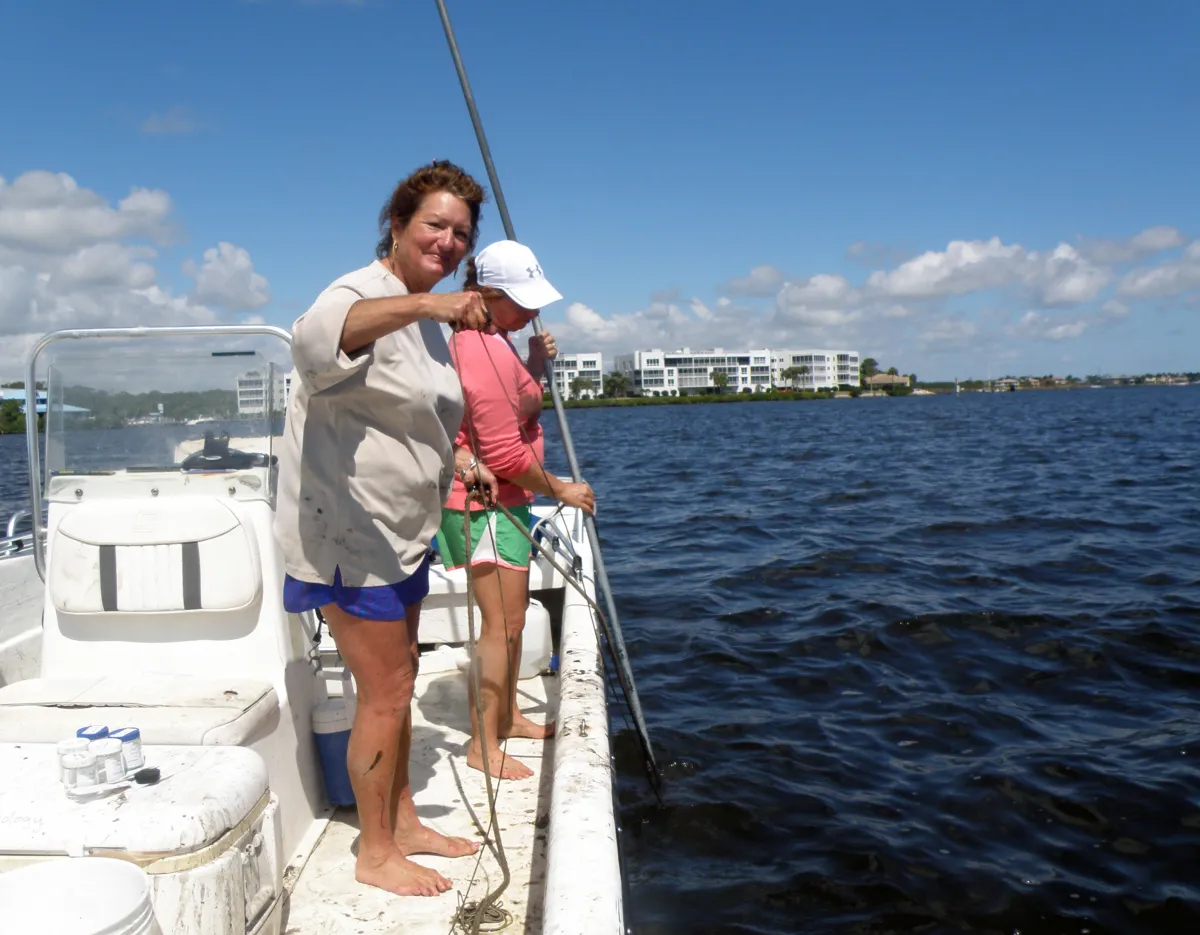 At work on the Indian River Lagoon. (Photo: Michelle Stephens)
"Sherry's knowledge of the Indian River Lagoon—the system, its ecology, its flora and fauna—and the best sites for the research I was conducting, was critical to the success of that research," said Rick Osman, a Smithsonian Environmental Research Center ecologist who traveled to SMS for research from 2004 to 2018. "I was always learning new things about the IRL from her, which continually stimulated new research ideas and approaches."
In 2005, two marine organisms were named after her—Smithsoniarhynches sherryreedae, a new species of Indian River Lagoon flatworm, and Celleporaria sherryae, a new species of bryozoan found in the Gulf of Mexico.
"There are not too many people who enjoy collecting seaweeds and slimy cyanobacteria as much as I do, but Sherry was one of them," said SMS Director Valerie Paul, who worked closely with Sherry for more than 17 years. "She was a remarkable and extremely dedicated employee, and such a kind and thoughtful person."
A passionate recreational and scientific scuba diver, Sherry also served for many years as SMS's Dive Officer and on the Smithsonian's Diving Control Board, supervising thousands of research dives throughout Florida, Belize and the Caribbean. She served on the board of directors of both the American Academy of Underwater Sciences and the International Women Divers Hall of Fame, to which she was inducted in 2002, and which recognized Sherry as the first female Scientific Diving Officer in the United States.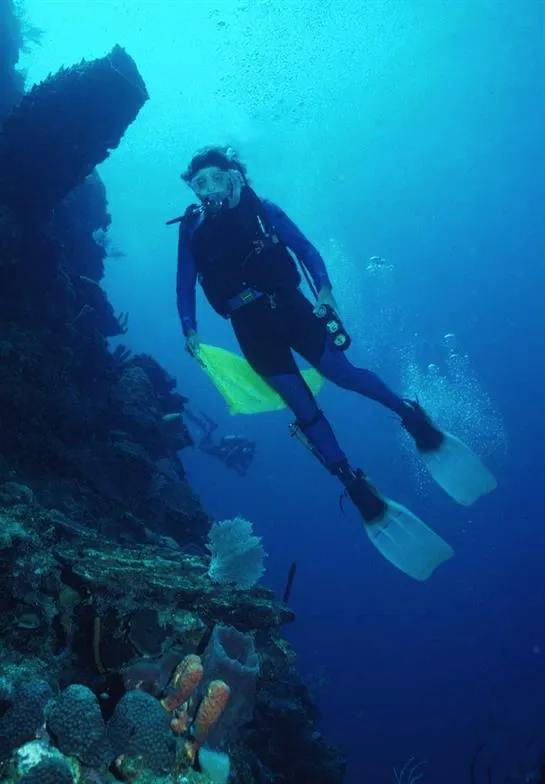 Sherry diving off a wall in Roatan, Honduras. (Photo: John Reed)
Despite her formidable professional accomplishments, Sherry will most be remembered for her deeply compassionate nature—and the steely resolve born of a native New Englander.
Weekly, she would bring home-baked cakes to the station's galley kitchen, despite her claims that she "didn't bake"; she kept a desk drawer stocked with chocolate for anyone who needed a boost. She was a generous gift-giver: handmade cards, fabric wreaths and quirky tree ornaments are just a sampling of the objects she would bestow on friends and colleagues with affection.
"We lost the heart of the marine station," said SMS researcher Iris Segura-Garcia. "She was the most caring, cheerful and empowering woman you could meet."
SMS biologist Jennifer Sneed recalled how critical Sherry's support was for her at a difficult time in her personal life. During this time she found herself unexpectedly distraught after discovering a lizard caught in flypaper, but Sherry assured Sneed that the lizard would be fine after putting it by a downspout so it could drink—and continued to reassure Sneed for months that the creature had survived.
Sherry's selfless support extended to all those who came within her orbit—even those whose stay was brief.
"Being a postdoc from another country involves sacrifice and perseverance, and beginnings are usually hard," said Eve Galimany, who came to SMS from the University of Barcelona from 2015 to 2016. "She welcomed me every single day with a good morning in my mother tongue: Bon dia."
Jennifer DeBose, who was at SMS from 2009 to 2011 and is now an adjunct researcher at Dauphin Island Sea Lab in Alabama, recalled Sherry's expertise not only as a boat driver—Sherry held a USCG Captain's license—but also as a calming mentor. With the start of her research at Carrie Bow Cay, Belize delayed due to bad October weather, DeBose said Sherry helped her practice patience and calm her anxiety in a most unusual way—basketweaving with rope and yarn.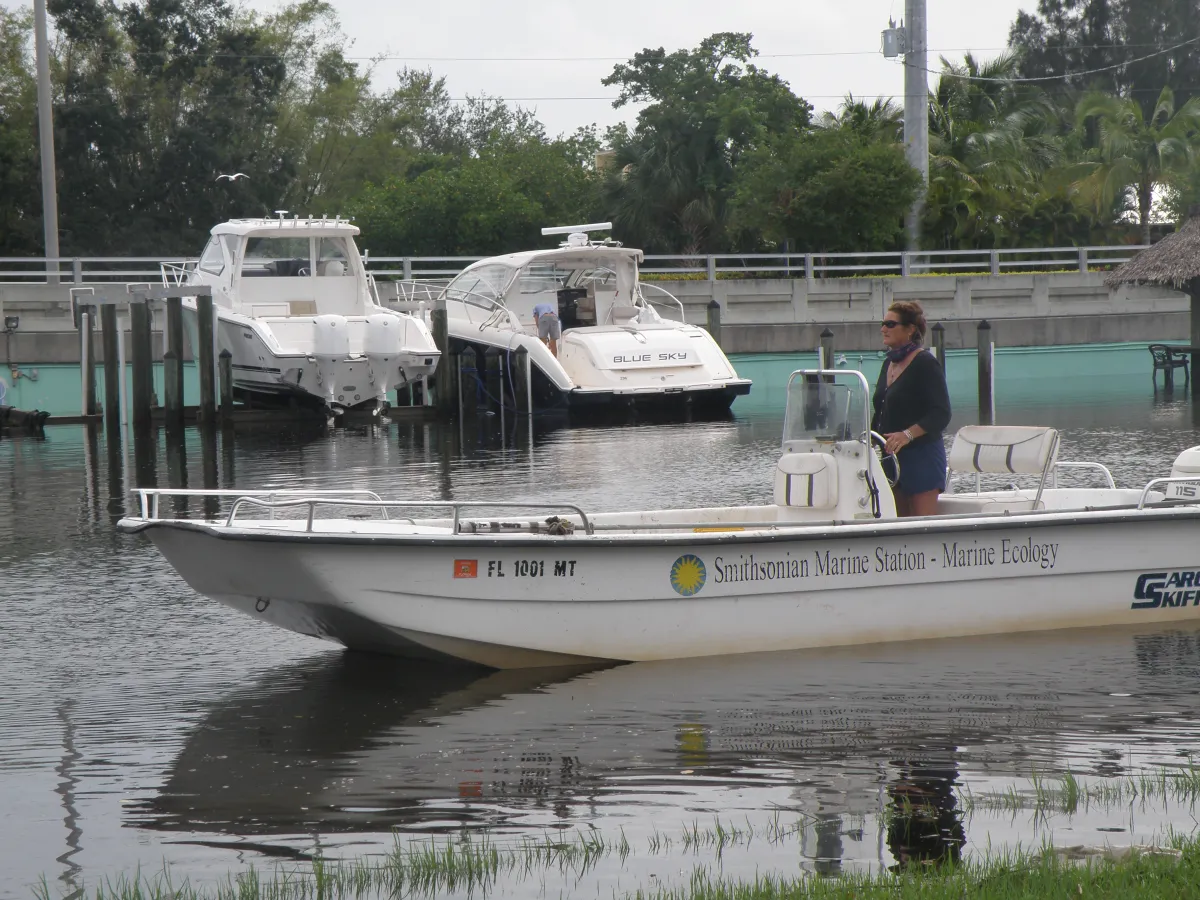 (Photo: Michelle Stephens)
"She taught us idle hands are boring, and pursue everything you want, even if it's a worm farm or owning 15 paella pans or making your own origami Christmas boxes," recalled Katrina Bayliss, who worked closely with Sherry as part of SMS's Benthic Ecology lab from 2013 to 2016. "Sherry set me up to pursue my future. I would not be where I am without her. She was the strongest person I've ever met, and I am so thankful to have known her at a time when I needed her."
Kind as she was, Sherry was far from a pushover. Tall, strong and relentlessly athletic, she recounted her reaction when she discovered she and a visiting female scientist had some very unwelcome company while doing field work on a mosquito impoundment.
"It's hot, miserable, and we're walking and there's no trail, and I thought I heard her behind me," Sherry said. "Then I get to the main road, turn around, and it's this naked guy. He said, 'I thought there was only one of you,' and I screamed at him – 'What are you doing?!' and he took off."
Sherry paused for a moment, caught in the memory. Then, with the shy, unaffected smile she often shared with others, she shrugged.
"But he was fairly small. I could have taken him, I think."
--Smithsonian Marine Station Staff, Colleagues and Friends