Smithsonian National Museum of Natural History
Image

DEPARTMENT OF BOTANY
Edward Palmer - Spines of Mesquite Tattooing
Spines of Mesquite Tattooing
Provenance: Arizona
Accession Number: 015724
Date Acquired: 1885
Culture: Cocopa
Narrative: Chin Tatoos on Cocopa Girls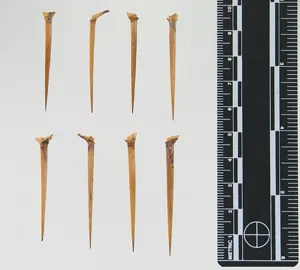 Look closely, all the points on the spines are broken and discolored at the tip. These had been used by the Cocopa, who once occupied the Colorado River Delta floodplain in large numbers. The Cocopa used the spines to create geometrical tattoos on girls' chins by puncturing the skin around the chin and rubbing charcoal into the wounds. Two or three spines were tied together and were heated in a fire to harden. A female friend performed the tattooing, and the practice served as a rite of passage for Cocopa girls, a visible mark of their entry into adulthood. By the 20th Century, missionaries tried to extinguish the practice of facial tattooing in the southwestern United States.
The Cocopa language and culture is endangered. The population the entire community, which includes residents of both Mexico and the United States, hovers around 500 people and is decreasing. The language is passed on to some children in certain communities and at one local college in the southwestern United States (Lewis, 2009).
Mesquite: Iconic Plant of the Southwest
Mesquite grows throughout the southwestern United States and northern Mexican plains and foothills. Up until 1900 mesquite beans were one of the most important wild plant foods known to the Cocopa (Williams, 1983). It loses its leaves in winter and becomes green again in spring after the last frost. Its roots grow deep into the soil, allowing it to be largely independent of rainfall (Felger 2000:36).
Palmer's Collection
Palmer collected these spines in 1885 and sent them to Professor Spencer Baird, then Secretary of the Smithsonian Institution, along with other material culture of the Cocopa. By then Palmer had already published his observations of the uses of mesquite in his 1878 American Naturalist article: Plants Used by Indians of the United States.