Smithsonian National Museum of Natural History
Image

DEPARTMENT OF BOTANY
Edward Palmer - Hair-brush (Sacatone) Grass Roots
Hair-brush (Sacatone) Grass Roots
Provenance: Arizona
Accession Number: 015930
Date Acquired: 1885
Culture: Akimel O'odham or Pima
Narrative: Grass Roots Hairbrush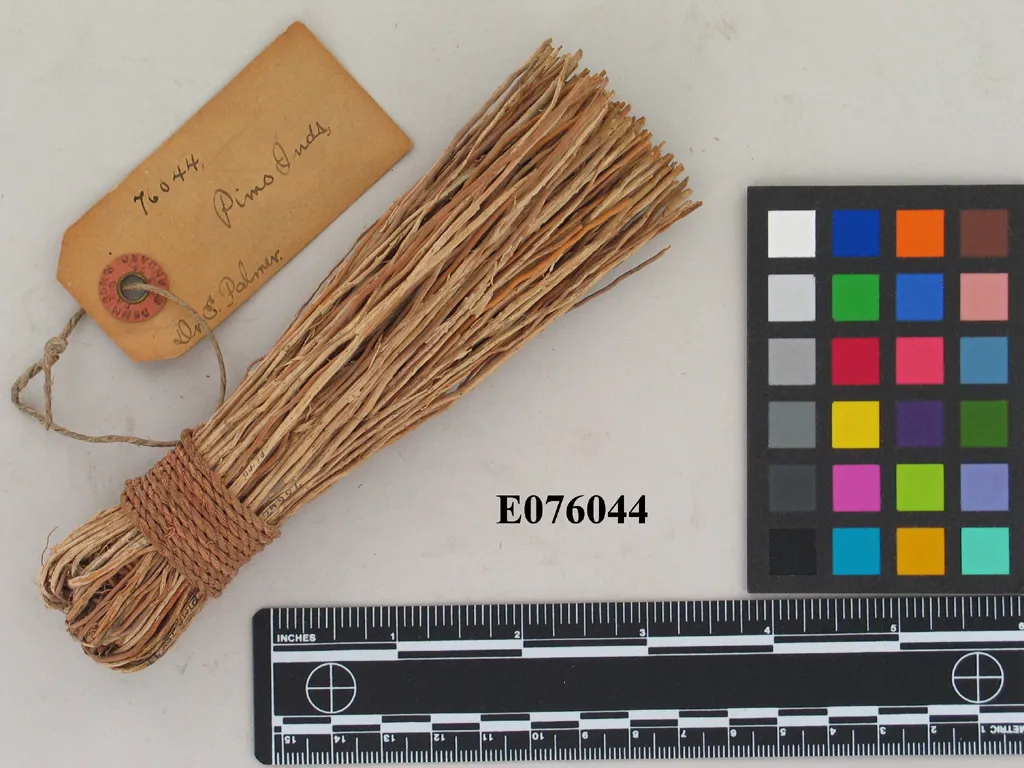 The Akimel O'odham crafted this hairbrush, used primarily by women, from the grass species Sporobolus wrightii (Ezell 1983). To make the brush, the artisan gathered grass roots (called "culms") in the autumn, folded them over, and wrapped them with fiber cord (Ezell 1983). The brush shown is simpler in design than other grass brushes made by the Akimel O'odham, many of which possess elaborate patterns and weave (Wissler 1916).
The Akimel O'odham (formerly known as the Pima) is an ethnic group part of the Tohono O'odham Nation in South Central Arizona and Mexico. The Tohono O'odham numbers approximately 20,000 individuals. The Piman language is among one-hundred or so native languages spoken north of Mexico that are under immediate threat of extinction. While the language is typically spoken by adults, the it is taught from primary school on (Lewis, 2009).
Loss of a Natural Resource
 The first Europeans to explore Arizona observed abundant, coarse bunch grasses called Sacaton (which means bunch grass in Spanish) growing on the banks of the Gila River (pronounced "heela"). Sporobolus wrightii is one of these bunch grasses. Sacatons grow five to six feet high and have straight reed-like culms. They look like fine-leaved Pampas Grass and are well-spaced over the landscape. Sacaton grasses were also used for making baskets, brooms, and rockets used at the religious festivals in Guadalajara (Bull Torr Club 14:99; Archer cards). Brushes were later made from maguey fibers or yucca (Rea, 1997:108).
Palmer's Collections
 Palmer collected other hairbrushes from the Akimel O'odham (made of the Organ-pipe cactus fruit Pachycereus pectin-aboriginum Engelm. ex S. Watson) and from the Tarahumara (made of pine cone).