Smithsonian National Museum of Natural History
Image

DEPARTMENT OF BOTANY
Edward Palmer - Fish Hooks of the Mohave Indians
Fish Hooks of the Mohave Indians
Provenance: Arizona
Accession Number: 5070
Date Acquired: 1876
Culture: Mohave
Narrative: Catch a Fish with Cactus Spine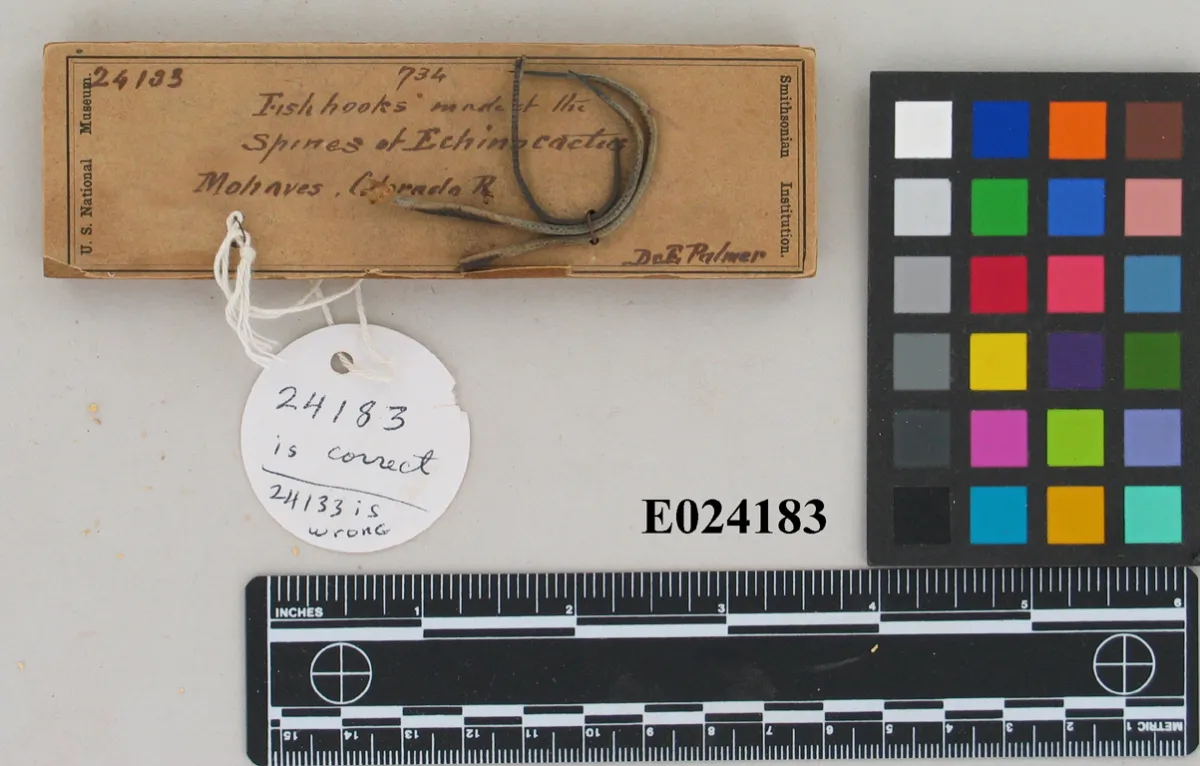 Palmer collected these materials during an eight-day stay at the Mohave Reservation in California in July, 1876. Palmer's notes from this visit include phonetically-spelled plant names in what appears to be the Mohave language. Palmer "paid particular attention to [obtaining] original [materials] as made and used before [Europeans and Americans] came among [the Mohave]" (Letter to Spencer Baird, 1876). At the time Palmer collected these cactus fish hooks, the Mohave were using steel fish hooks.
 The Mohave have an estimated ethnic population of 200-760. Mohave communities live near the California-Arizona border and on the Fort Mohave and Colorado River reservations. The Mohave language shares similarities with nearby tribes including the Maricopa, Walapai, Havasupai, and Yavapai.
 Form into Function
 The botanical specimen of Ferocactus wislezeni , commonly known as the Biznaga cactus, shows the natural curvature of the cactus spines. The Mohave made the fish hooks from the spines and the fishing line from yucca (Yucca sp.).
Palmer noted that the cactus hooks were particularly effective in catching the fish in the Colorado River and in 1878, described the art and dexterity required in making the hooks in The American Naturalist . Angling, however, was not common for the Mohave, who more often used dip nets, seines or drag nets, traps or weirs, or large, canoe-shaped basketry scoops with long handles, to catch fish (Stewart 1983).
 La Biznaga
 The Biznaga cactus and its uses are described in Palmer's first and only (but well-received) book Food Products of the North American Indians , published in 1870. The stem of the plant is usually less than 1 meter and very thick, often up to 65 cm in diameter. The larger plants will conspicuously lean southward. The spines are a dull gray, the larger ones strongly hooked and the longest central spines reaching up to 12 cm long. Black ants often carry away seeds from hollowed but still fleshy, yellow fruits (Felger 2000:211). He also collected a live specimen of this cactus and sent it to the U.S. Department of Agriculture.