Smithsonian National Museum of Natural History
Image

DEPARTMENT OF BOTANY
Edward Palmer - Bean Basket
Bean Basket
Provenance: Chihuahua, Mexico
Accession Number: 017111
Date Acquired: 1886
Culture: Tarahumara or Rarámuri
Narrative: Home to Diverse Plants and Cultures
The Rar ámuri maintain extensive knowledge of plant resources, developed over centuries, and use wild plants in a sustainable manner (Bye, 1995 and LaRochelle and Berkes 2003:363). The Rar ámuri are primarily agriculturalists, however, growing crops of corn, beans, and squash (Pennington, 1963). Ethnobotanical studies document that the Rar ámuri use more than 1,000 plant species as food and raw materials. Bye (1981) noted that the Rar ámuri complement their crops with nearly 120 species of wild or weedy edible plants, including many greens which they call "kirib á."
The Rar ámuri, whose name means "human being(s)", are known to outsiders as the Tarahumara. Numbering over 80,000 people, the Tarahumaras' traditional territory is the forested mountains and canyons of western Chihuahua, called the Sierra Tarahumara, part of Mexico's Sierra Madre Occidental, where they have likely lived for at least 2,000 years. The largest Indigenous group in northern Mexico, they have preserved their distinctive identity and way of life, which is better documented than that of any other Indigenous society in the region. The Rar ámuri have attracted the attention of the medical community because they are renowned for their long-distance running and overall physical fitness. Because of their high vegetal protein diet, risk factors for coronary heart disease and hypertension are rare among them (Cerqueira, 1979:911-912).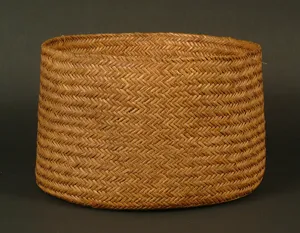 Palmer reported that this basket was used for holding beans. The Sierra Tarahumara, abounds in different varieties of wild beans. Nineteen wild bean species are found on the western slope of the Sierra Madre Occidental alone (Delgado 1985, Nabhan, 1990, Bye 1994:21). Beans supply sixteen percent of the daily calcium intake and are a rich source of dietary iron for the Rar ámuri (Cerqueira, 1979:908).
The basket is made from a Nolina species (called "kurú" in Rar ámuri) (Camou-Guerrero 2008:270). The Rar ámuri also use Nolina for making baskets, colanders, thatch, and sleeping mats. Similar baskets are found in found in archaeological sites in the Rar ámuri homeland (Pennington, 1983:283). Among the plants still used today are species of Nolina.
Edward Palmer's ethnobotanical research provides one of the few nineteenth-century sources of information on the useful plants of the northern Sierra Madre Occidental. In 1885, he made extensive plant collections in southwestern Chihuahua, which were deposited at the Smithsonian Institution and Harvard University ([Gray 1886, Watson 1886] in Bye 1994:20).
Threats to the Region's Biodiversity
 In 2002, the World Wildlife Fund (WWF) designated the Sierra Madre Occidental, including the Sierra Tarahumara, as a Global 200 Ecoregion, selected as a priority area for conservation because of its extraordinary biodiversity.
This diversity is now jeopardized by the environmental and social impact of mining, lumbering, ranching, tourism, and illegal drug production. These activities have overwhelmed traditional Rar ámuri strategies for managing natural resources and have severely degraded their environment, disrupting local and regional ecological relations and forcing thousands of residents to abandon their homes in the Sierra to seek livelihoods in economic centers across Mexico and the United States. The Sierra' s diverse cultures and languages are disappearing at a alarming rate, and local environmental knowledge that accumulated slowly over millennia, is being quickly forgotten (Mexico-North Website). In fact, scientists estimate that about seventy-five percent of nineteenth-century Rar ámuri ethnobotanical knowledge has been lost (Bye 1994:22).