Smithsonian National Museum of Natural History
Image

DEPARTMENT OF BOTANY
Edward Palmer - Gummed Stone Footballs
Gummed Stone Footballs
Provenance: Arizona
Accession Number: 015930
Date Acquired: 1885
Culture: Akimel O'odham or Pima
Narrative: Like Soccer but with More Running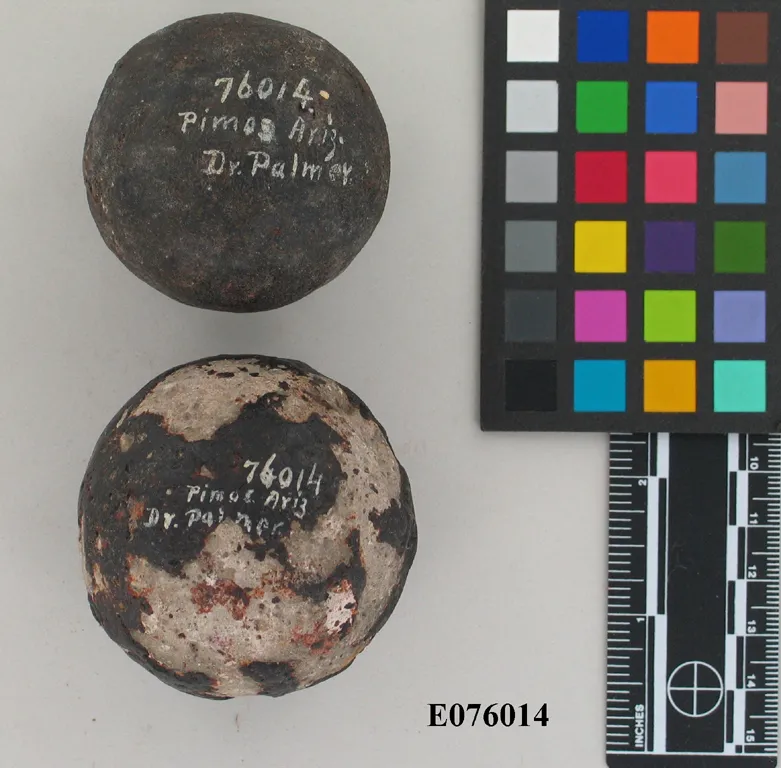 These balls were used as pacing devices for travel. Using their bare feet, Akimel O'odham men flipped these balls in the air to keep pace over running treks commonly covering twenty or thirty miles (Bahr, 1983). The men preferred running to walking as a form of locomotion and "habitually kept [the ball] in motion while traveling mostly 'to keep in practice. . . for races' (Bahr, 1983). These balls became symbolic of man's daily travels and in early reports, Akimel O'odham men declared they could run faster with the balls. Two youths would sometimes run long distances together, first one and then the other kicking the ball so that the ball was almost constantly in the air (Russell 1908). At the turn of the century, the custom of using these balls rapidly disappeared, as did other Piman games (Russell 1908).
 The Akimel O'odham (formerly known as the Pima) is an ethnic group part of the Tohono O'odham Nation in South Central Arizona and Mexico. The Tohono O'odham numbers approximately 20,000 individuals. The Piman language is among one-hundred or so native languages spoken north of Mexico that are under immediate threat of extinction. While the language is typically spoken by adults, it is taught from primary school on (Lewis, 2009).
 Many Uses for Lac
 The balls are made of a stone or wood core and a coating of lac, a resin produced by the insect Tachardiella larrea. The balls are approximately seven centimeters in diameter, roughly the size of a croquet ball.