Smithsonian National Museum of Natural History
The Arctic Studies Center conducts research on northern lands, environments, cultures, and people using Smithsonian collections and field studies to learn about the history and contemporary peoples of the circumpolar region. The Center works closely with indigenous groups, universities, organizations and government agencies to promote the welfare of northern people and to educate the public about the history, arts, and languages of the North. Its scholars publish papers, monographs, and catalogs and prepare exhibitions and educational programs.
Collections
Smithsonian collections are at the heart of the Center's activities. Smithsonian naturalist-anthropologists began collecting in the Canada's Northwest Territories and Alaska in the 1850s and in the 1870s began to build what has become one of the world's largest, well-documented anthropological and natural history collections representing cultures of the North American and Eurasian Arctic and Subarctic. The anthropological collections include material culture artifacts, ethnological observations, photographs, illustrations, maps, language, and mythology. Natural history collections represent all of the flora, fauna, and geology of northern North America and part of northern Eurasia.
Field Research
Arctic Studies Center scholars carry on the long tradition of fieldwork with active archaeological, ethnographic, and environmental research programs in northern Canada in Labrador and Quebec, in Alaska, Mongolia, and Russia. Research questions include how humans adapted to the northern environment and developed vibrant cultures that sustained them for thousands of years. Modern issues of language preservation, cultural heritage preservation, sustainability, and the impacts of global warming are among the Center's current research projects.
Education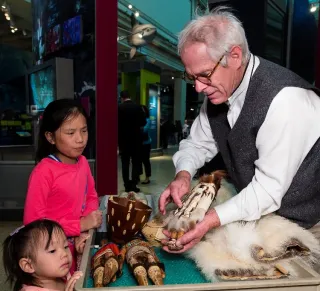 Through its publications, exhibitions, research, festivals, and teaching, the Center promotes knowledge of the North and its peoples to both broad and specialized audiences. It encourages student and indigenous participation in its programs.
Past exhibitions on Alaskan Native cultures, Inuit Eskimo art, Vikings, Genghis Khan, and the Ainu have reached wide audiences. A past exhibition on the narwhal (the 'Arctic unicorn') explored the function of the narwhal tusk and its mythology, Inuit relations, and climate vulnerabilities.
Arctic Studies Center Staff