Smithsonian National Museum of Natural History
Natural History Investigations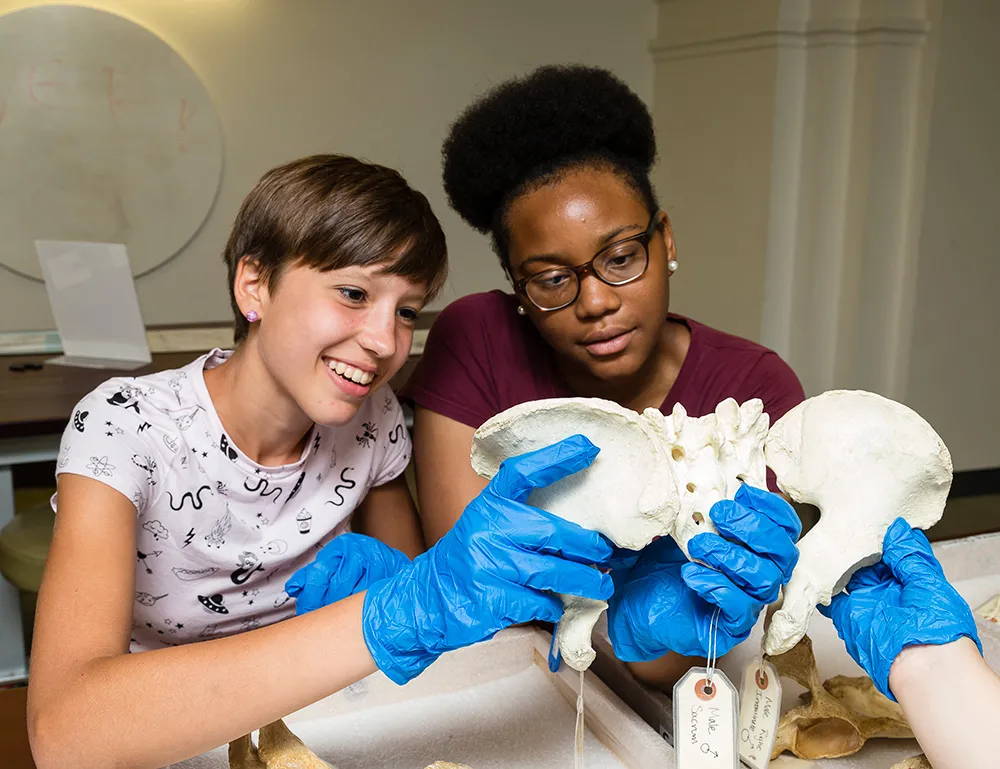 This program is currently on pause for the 2022-23 school year; please check back periodically for updates regarding the return of Natural History Investigations.
However, there is a special opportunity for teens to help shape a new exhibit. The museum is designing a new immersive, multi-media exhibition called The People in Nature Experience and we need your input. We are seeking interested youth between the ages of 13 and 18 and educators to interact with the prototypes/conceptual designs and provide feedback that will help us design the best possible experience for youth. Learn more and register.
After-School Programs for High School Students
Join us for an after-school program series that allows you to explore the world of natural history science in a fun and interactive way!
Who Should Apply?
Students in grades 9 through 12 who are interested in science and museums, and are looking for ways to go beyond what they learn in school.
What Will I Do?
Meet and learn from museum scientists and educators
Gain natural history science and technology skills
Visit exclusive behind-the-scenes areas of the museum
Meet other science-minded teens from across the D.C. metropolitan area
Details about the Program
Location
Q?rius, The Coralyn W. Whitney Science Education Center at the National Museum of Natural History
Dates, Times, and Program Themes
Natural History Investigations typically runs one weekday evening per week for around four weeks. Please see below for past program themes. This program is currently on pause for the 2022-23 school year; please check back periodically for updates regarding the return of Natural History Investigations.
Past Themes
Outbreak: Disease Detectives
Ebola, flu, and HIV are viruses that frequently make the news ... but did you know that these viruses originated in animals and spread to humans? Join NMNH staff and Smithsonian scientists for a behind the scenes tour of our collections and explore some of the animal species most likely to host zoonotic diseases. Use game-like simulations to determine how you would respond to an outbreak of Ebola, and gain hands-on experience educating your community about flu.
Tropical Botany: Food in a Changing Climate
There are over 8 billion mouths to feed and the majority of the most vulnerable live near coastlines quickly changing as a result of climate-change-related sea level rise. Work with NMNH staff and botanists from the Smithsonian and U.S. Botanic Garden to understand how the genetics of a few poorly-studied plants on remote Pacific islands can be used to feed millions. Learn how to identify and collect plant specimens and use them in molecular genetic studies and crop development.
Electron Microscopy: The Kingdom of Small Things
People are often familiar with small things such as bacteria, cells, or nanoparticles, however very few have the opportunity to actually see them. Scanning electron microscopes, with magnifications up to million times, allow us to take a peek at this minute world and understand the micro-structures of the natural objects all around us. Join the Museum's Microscopy Educator and learn how to operate an electron microscope, prepare samples, and capture images of very small, but very important, things.
Entomology: Exploring Insects
With over 35 million specimens from around the globe, the Smithsonian insect collection is one of the largest entomological collections in the world. Join NMNH staff and scientists for a behind-the-scenes tour of the entomology collection, a hands-on demonstration of pinning and preserving specimens, and an up-close exploration of the living denizens of our Insect Zoo.
How Do I Apply?
Thank you for your interest in our youth programs. We are not accepting applications for Natural History Investigations at this time, please check back periodically for updates.
Questions? Contact us at YouthNMNH@si.edu (link sends e-mail) or 202-633-4588
Please Note: 
Students are required to attend all sessions within their program.
Students can only be accepted to one program series.
At the end of the program, students receive a certificate of completion, participate in a showcase for family and friends.
Students can use the certificate of completion to demonstrate an interest in science when applying to the Youth Engagement through Science internship program or Q?Crew Teen Volunteer program.