Smithsonian National Museum of Natural History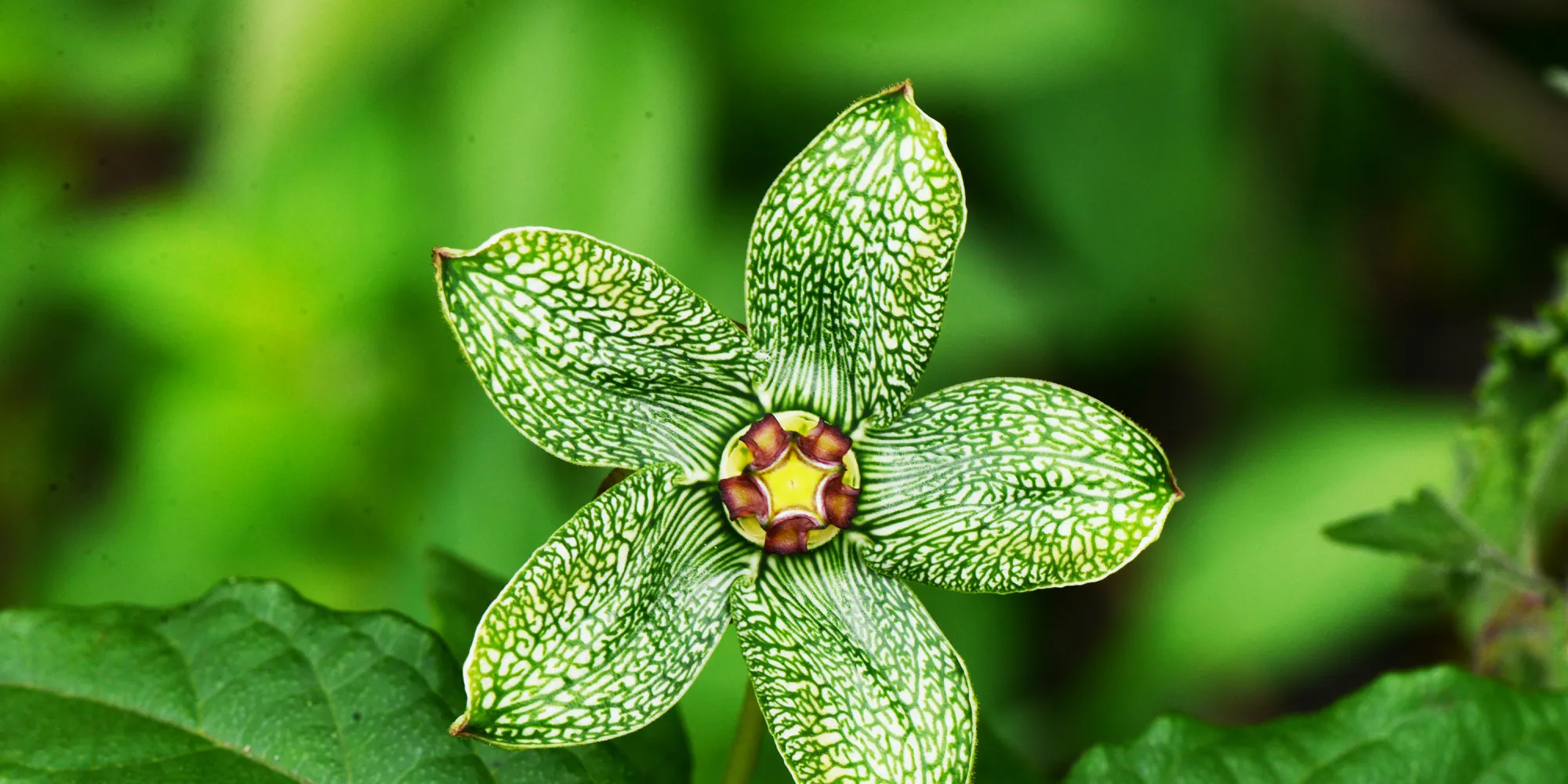 Department of Botany
Smithsonian Botanical Symposium
Smithsonian Botanical Symposium
The 19th Smithsonian Botanical Symposium, 13 May 2022, explored plants in exceptional places
The Smithsonian's Department of Botany and the United States Botanic Garden held the 19th Smithsonian Botanical Symposium, "Life on the Edge: Exceptional Plants in Exceptional Place," on 13 May 2022.
Plants live in seemingly inhospitable environments that exhibit extremes of light, temperature, altitude, drought, and substrate. To survive in the driest deserts, on mountaintops, without soil or with toxic soil, numerous adaptations have evolved to enable specialized plants such as succulents, epiphytes, and alpines to exploit these environments. The 19th Smithsonian Botanical Symposium explored current research on plants in extreme environments, examining their natural history, evolution, and value for human survival, in the face of climate change and increasing pollution. Speakers included scientists specializing in conservation, ecology, systematics, and genetics whose research explores plant survival in extreme parts of the natural world.
In addition, the 19th José Cuatrecasas Medal in Tropical Botany was awarded at the Symposium. This prestigious award is presented annually to an international scholar who has contributed significantly to advancing the field of tropical botany. The award is named in honor of Dr. José Cuatrecasas, a pioneering botanist who spent many years working in the Department of Botany at the Smithsonian and devoted his career to plant exploration in tropical South America.
The Symposium was a hybrid event serving both in-person and virtual guests. All talks were recorded and will be posted here in the coming weeks.
The schedule that occurred on Friday, May 13, 2022 (Eastern Daylight Time)
1:00 pm – Welcome and presentation of the José Cuatrecases Medal
1:15 pm – Jenna Ekwealor (Smithsonian Institution), "The secret lives of desert moss"
1:45 pm – Fabian A. Michelangeli (New York Botanical Garden), "Endemism and adaptations in the flora of the lost world"
2:15 pm – Break
2:45 pm – Tanisha M. Williams (Bucknell University), "Protecting the Fynbos: climate change insights from South Africa"
3:15 pm – Ben Nyberg (National Tropical Botanical Garden), "A conservation airlift: applications of drone technology in plant conservation"
3:45 pm – Break
4:15 pm – Jessica Allen (Eastern Washington University), "Urban lichens: symbioses in the built environment"
4:45 pm – Panel Discussion
5:15 pm – Wrap-up
Abstracts from the speakers of the 19th Smithsonian Botanical Symposium
Jessica Allen
Eastern Washington University
"Urban Lichens: Symbioses in the built environment"
Densely populated urban areas are centers of exceptional human culture, wealth and political power. The biodiversity that occupies major cities alongside their human inhabitants, while typically not exceptional in their rarity, are exceptional in their adaptability and resilience. Of the biodiversity observed in cities, lichens are some of the most colorful and ubiquitous. These quintessential symbioses are the dominant and most diverse organisms in many of the harshest environments on the planet, yet they are incredibly sensitive to anthropogenic change. In this talk I will discuss how lichens have responded to urbanization in the Northeast Megalopolis over the past two centuries and will compare these patterns to those observed in select cities around the world. I will discuss the lichens of New York City, the heart of the Northeast Megalopolis, in depth, where a documented decline occurred throughout much of the 19th and 20th centuries. Since the 1970s there has been a notable rebound in the lichens of New York, and I will introduced you to some of the remarkably resilient city-dwelling species that have managed to grow, and even thrive, in one of the mostly densely urbanized regions on the planet.
Jessica Allen is an assistant professor in the Department of Biology at Eastern Washington University and the Co-Chair for the IUCN SSC Lichen Specialist Group. Her research focuses on lichen conservation and genomics, and she is primarily interested in untangling the factors that shape species distributions using an interdisciplinary approach that incorporates biodiversity informatics, population genomics, and landscape genetics. She recently co-authored the book, Urban Lichens: A Field Guide for Northeastern North America, which was published by Yale University Press. Jessica earned her Ph.D. from the City University of New York Graduate Center and The New York Botanical Garden and conducted post-doctoral research at The Swiss Federal Institute for Forest, Snow and Landscape Research, WSL before beginning her position at EWU.
 
Jenna Ekwealor
Smithsonian Institution
"The secret lives of desert moss"
Desert plants experience extreme fluctuations in light, temperature, and water availability. These intense conditions shape the development, life history, and evolutionary trajectory of desert mosses. In this talk, I will present on two such processes: vegetative growth and sexual reproduction. First, I discuss the discovery of Mojave Desert mosses occurring as hypoliths under milky quartz rocks. To characterize this unique moss microhabitat, we deployed microclimate dataloggers and collected samples in a Mojave site containing quartz hypoliths. The results of this study highlight the need to consider microhabitats, especially in extreme environments where mosses may find refuge from the prevailing macroclimatic conditions. Second, I discuss how natural populations of many desert mosses appear highly female-biased based on the presence of reproductive structures. The dryland moss Syntrichia caninervis is notable for its low frequency of sex expression and strong female bias. Using molecular methods, we uncovered the genetic sex of non-expressing shoots and compare the patterns of phenotypic and genotypic sex ratios in Mojave populations. The findings shared in this talk contribute to our understanding of how the environment may modulate habitat filtering, vegetative growth, and sexual reproduction in S. caninervis, either through its direct influence on physiology or through selection.
Jenna Ekwealor is a Biodiversity Genomics Postdoctoral Fellow in the Smithsonian Institution's OCIO Data Science Lab where she is studying evolutionary history of the moss genus Syntrichia. She earned a Ph.D. from University of California, Berkeley, Department of Integrative Biology in 2020, studying ultraviolet radiation and desiccation tolerance in Mojave Desert Syntrichia mosses; a Master of Science in Environmental Science, Biology Option, from California State University, Los Angeles, in 2015, where she studied life history and population genetics in Mojave Syntrichia caninervis; a Bachelor of Science in Biology from Purdue University, Indianapolis, in 2012; and a Bachelor of Arts in Religious Studies from Indiana University, Indianapolis, in 2012.
 
Fabian A. Michelangeli
New York Botanical Garden
"Endemism and adaptations in the flora of the lost world"
The dramatic landscape of the "tepuis", the table top mountains raising over the forest and savannas of the Guayana Shield, have fostered great interest in the biota of the region. In spite of that, our knowledge of the flora and its relation to other tropical biomes is far from complete. During this talk we will discuss our understanding of high levels of endemism at the specie and generic levels of the tepui flora and the remarkable diversity of adaptations to the poor and acidic soils, and high levels of irradiation.
Fabián A. Michelangeli is the Abess Curator of Tropical Botany at the New York Botanical Garden where he has worked since 2003. Born and raised in Venezuela, he obtained his undergraduate degree in Biology at the Universidad Central de Venezuela in Caracas. He then obtained his Ph.D. in Botany at Cornell University and was later a postdoc at the American Museum of Natural History. While most of his current research focuses on systematics and evolution of Melastomataceae, he has also worked on floristics and ecology in the Guayana Shield.
 
Ben Nyberg
National Tropical Botanical Garden
"A conservation airlift: applications of drone technology in plant conservation"
Cliff habitats are hard to study since their extreme topography can make access difficult and dangerous. New tools are changing that equation. Drones are now being applied to allow botanical survey of vertical surfaces. Over the past few years, this aerial technology has led to a number of important discoveries, as well as comprehensive inventories of rare cliff species. A new project is underway to allow remote collection of plant material and assist with identification and conservation in these difficult environments. 
Ben Nyberg is a GIS and Drone specialist working at the National Tropical Botanical Garden on Kauai, Hawaii. His work is focused on island floras, especially rare cliff species. Ben enjoys the connection of botany and emerging technologies to further plant conservation.
 
Tanisha M. Williams
Bucknell University
"Protecting the Fynbos: climate change insights from South Africa"
The clock is ticking as we try to save the world's biodiversity from climate change. Projections have calculated that by the end of 2100 up to one and every six species will become extinct or will be at a breaking point setting its path towards extinction. Such drastic events will have significant impacts on biodiversity patterns and ecosystem functioning. Scientists are urgently working to understand historical and contemporary responses to increasingly stressful environments, conserve species and their habitats, and make meaningful projections. South Africa is home to several biodiversity hotspots and has the fifth highest number of plant species in the world. The Fynbos, a South African hotspot, has recently seen record breaking droughts and fires devastating this unique ecosystem. Collaborations between a global network of scientists, government offices, nonprofit organizations, and concern community members are helping to document, monitor, and conserve species in the Fynbos. A multidisciplinary approach, using herbarium records, trait-based ecology, genomics and other methods, is being used to understand the mechanisms that influence species distributions and their responses to climate change. This talk will take you on a tour of how we are trying to save this threatened biodiversity hotspot.
Tanisha M. Williams is the Burpee Postdoctoral Fellow in Botany at Bucknell University. Her dissertation research examined the impacts of climate change on Pelargonium species throughout South Africa. Her postdoctoral research elucidates the role Aboriginal peoples have on the movement and maintenance of Solanum species, and understanding how biogeographic barriers impact species distributions throughout Australia. She also uses genomics methods to update the conservation status of rare plants in Pennsylvania. This work is a collaboration with the Natural Heritage Program and the Western Pennsylvania Conservancy. Dr. Williams has extensive science communication and policy experience. She is the founder of Black Botanists Week, an online campaign to amplify diverse voices in botany. Last year the campaign reached over one million participants around the world. Dr. Williams is also a Fulbright scholar and Alumni Ambassador. She completed her Ph.D. in Ecology and Evolutionary Biology at the University of Connecticut in 2019.
Smithsonian Botanical Symposium Archive
2001    Linnaean Taxonomy in the 21st Century
2002    The Convention on Biological Diversity
2003    Botanical Frontiers in Southeast Asia
2004    Botanical Progress, Horticultural Innovations, and Cultural Changes
2005    The Future of Floras: New Frameworks, New Technologies, New Uses
2006    Island Archipelagos: Cauldrons of Evolution
2008    Partners in Evolution: Interactions, Adaptations, and Speciation
2009    Genes, Genomics and Genome Evolution in Plants
2010    Food for Thought: 21st Century Perspectives on Ethnobotany
2012    Transforming 21st Century Comparative Biology using Evolutionary Trees
2013    Avoiding Extinction: Contemporary Approaches to Conservation Science
2014    Location, Location, Location...New Advances in the Science of Biogeography
2015    Next Generation Pteridology: An International Conference on Lycophyte & Fern Research
2016    Bats, Bees, Birds, Butterflies and Bouquets: New Research in Pollination Biology
2017    Exploring the Natural World: Plants, People and Places
2018    Plants in the Past: Fossils and the Future
2019    What Darwin Couldn't Know: Modern Perspectives on Crop Plant Origins
2021    Plant Symbiosis: The Good, the Bad, and the Complicated