Smithsonian National Museum of Natural History
Materials Processing Laboratories
Large sample preparation
The large sample preparation laboratory is equipped for cutting, grinding, polishing and sampling of a wide variety of material types and sizes. The laboratory includes a 10-ton capacity wire saw and abrasive and diamond saws up to 24 inches in diameter. Cut surfaces up to square meters in size can be ground and polished.
Meteorites and rocks from around the world have been prepared in the lab. Most of the work currently done in the lab is in the support of ongoing scientific research or collections management, but some of the most spectacular specimens prepared in this lab are on view in the Janet Annenburg Hooker Hall of Geology, Gems, and Meteorites.
Equipment & Capabilities
The 10-ton capacity wire saw uses an abrasive slurry of garnet or silicon carbide and water to slowly cut through large specimens. The wire saw has been used to cut large iron meteorites and boulders of banded iron formation and other rocks. It can take as many as 75 wire changes and several weeks to saw through a single specimen.
A 24-inch gantry saw outfitted with abrasive blades for cutting iron meteorites and diamond blades for rock cutting with minimal loss of material.
A 14-inch water-cooled abrasive saw is used to cut iron meteorites and other metallic specimens.
A 14-inch water-cooled diamond saw is used for routine slicing of rocks to obtain subsamples for optical work and chemical analysis.
An overhead grinder/polisher can prepare large surfaces of many square feet in area.
Ten inch diameter and smaller diamond saws have thin blades to minimize sample kerf loss.  
Fixed and loose abrasive lap wheels are used for grinding and polishing hand-sized samples for study and exhibit.

Diamond coring bits

from 25 millimeter diameter to very small are used wet to remove samples from rocks including archaeological specimens.
Gallery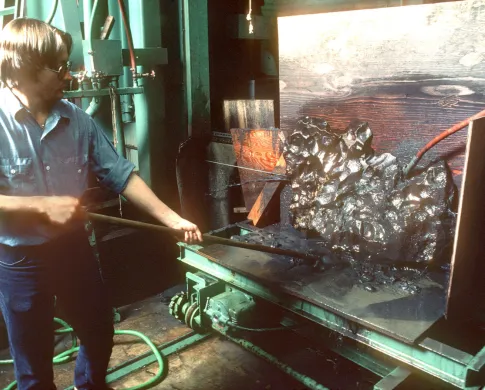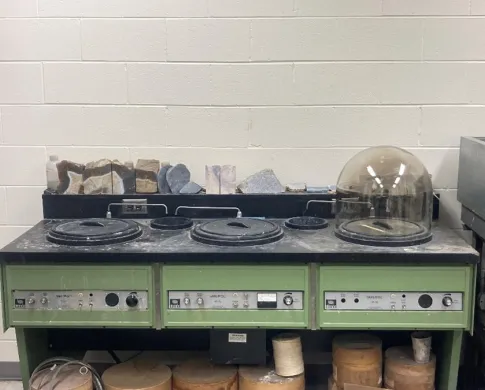 Small sample preparation and fabrication
The small sample preparation lab is equipped to make polished samples of embedded materials and petrographic thin sections.  Samples that are routinely prepared include Antarctic meteorites, FTIR and XANES wafers, and experimental petrology charges. 
Equipment & Capabilities
A low-speed thin-kerf diamond wafering saw is used to cut small samples and to cut thin-section billets off slides, minimizing kerf and grinding loss.
A reciprocating diamond long-wire saw is used to cut small, friable materials. The saw has a very small kerf of 250um, and can be used without water or other cutting lubricants that might contaminate or dissolve a sample.

Vacuum and pressure-embedding

equipment is used to stabilize porous or friable samples, which improves the surface polish of microbeam samples.

An automatic thin-section grinder and automatic thin-section polishers are used for preparing larger quantities of petrographic thin-sections
A lathe and vertical mill are used for fabricating experimental apparatus and custom sample holders.
The lab has many lap wheels that are used for grinding and producing highly polished samples as small as a fraction of a millimeter.  This preparation is crucial for high quality imaging and analysis.
Gallery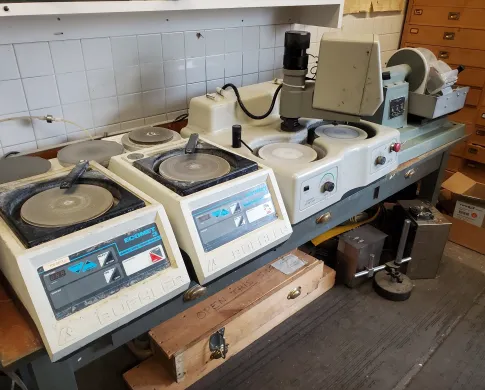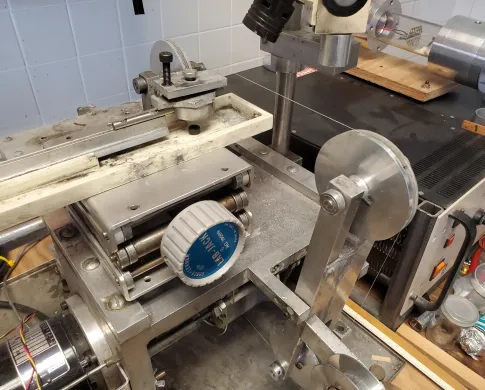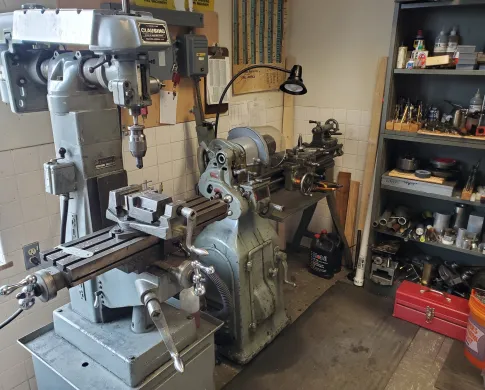 Bulk Rock sample preparation
Equipment & Capabilities
A Spex 4200 alumina-lined jaw crusher is used for reducing rock samples into small chips for further processing.
A Spex Shatterbox ring and puck mill has alumina and tungsten carbide-lined dishes and pucks for producing fine rock powders.  A specially outfitted dish can be used with liquid nitrogen for grinding some materials.
An alumina-lined Spex 8000 ball mill/mixer is used for grinding small samples as well as mixing powdered material with fluxes and binders.
A large array of sieves in various mesh sizes are used to separate crushed and powdered materials.  Two sizes of sieve shakers can facilitate the sieving process.
A Franz isodynamic magnetic separator model L-1 is used to separate mineral grains from crushed rock samples.
A Misonix XL2020 Sonicator ultrasonic processor is used for cleaning small samples. 
Gallery