Smithsonian National Museum of Natural History
Dig Deeper at Home: Edge of Extinction Murals
Watch the Webinar
In the webinar video above, you'll learn from paleoartists Bob Walters and Tess Kissinger how to draw a Triceratops. They also will provide pointers on how to finalize your mural. You'll also explore more fun examples of how art and science come together to help us understand and imagine past life on our planet with paleontologists Karma Nanglu and Scott Evans, and fossil preparator Michelle Pinsdorf.
(This page is Part 5 of 5 in the activity, "Paleo Art – Edge of Extinction: Make Your Own Dinosaur Ecosystem Mural.")
Draw
Practice your drawing of Triceratops on separate pieces of paper. 
Add a Triceratops or two to your mural once you're ready and if you want to.
Use all you've learned to put the final touches on your mural. Follow these tips from our scientists and paleoartists:

Don't be afraid to change something or start over.
When you add details, remember you want more detail in the foreground and less in the background.
If you run out of space and want to add more, move the horizon line up, and/or add paper.
Be creative with color and animal behavior. 
Think about modern animals and swampy areas and imagine what you would see there. Be selective about the animals you include and think about how they might interact with each other.
Fill the landscape with plants. Ferns grow close to water sources and around the base of trees. Palms are farther away from the water. The ground would be covered with leaf litter and moss, not grass.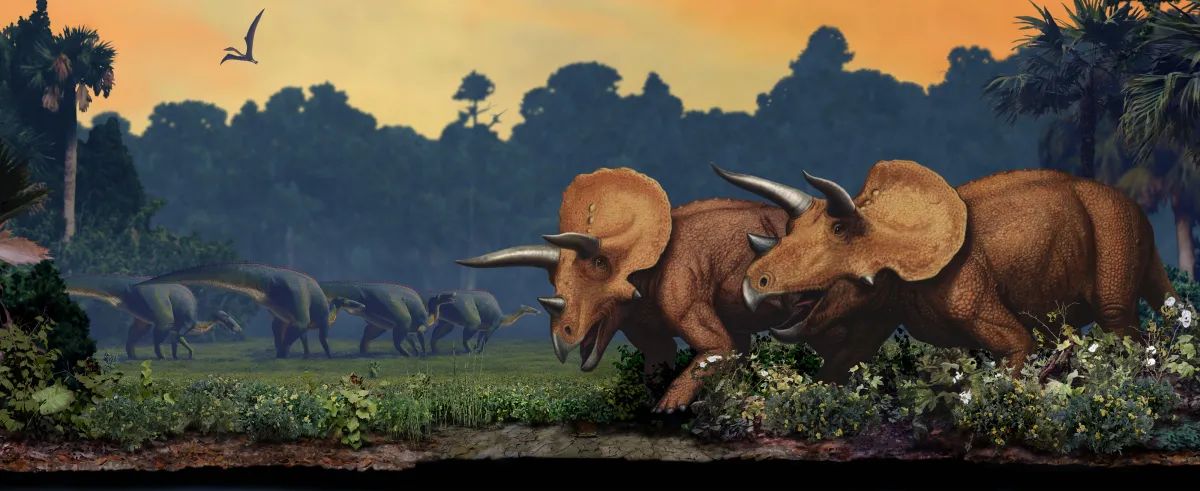 Explore More from the Featured Experts
Watch paleoartists Bob Walters and Tess Kissinger draw dinosaurs here:
Learn more about paleoartists Bob Walters and Tess Kissinger at their website, Dinoart.
Watch Smithsonian experts discuss fossils here:
Get more Paleontology Education Resources from the National Museum of Natural History.