Smithsonian National Museum of Natural History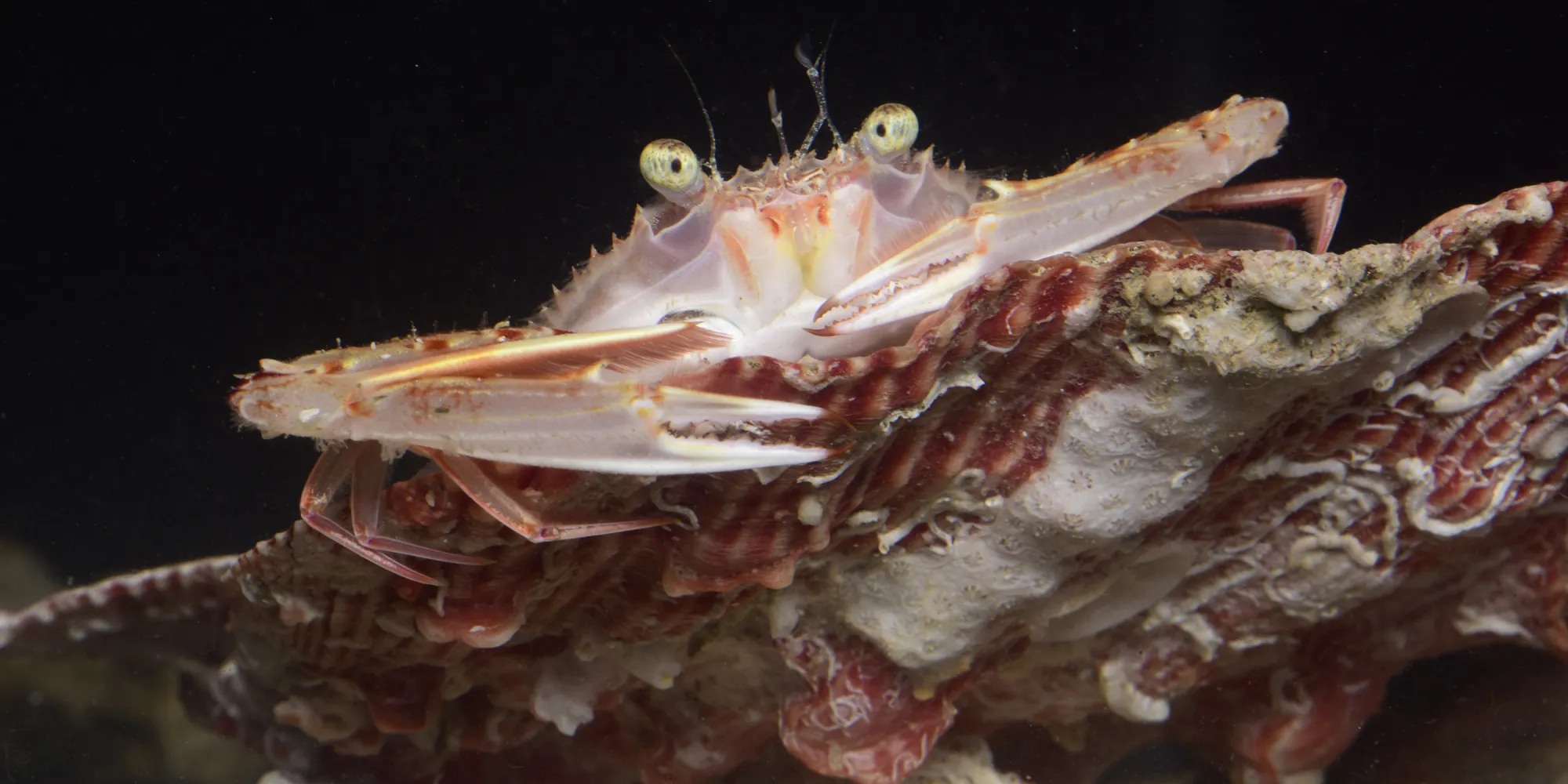 Department of Invertebrate Zoology
Remembering Mary Rice
Dr. Mary E. Rice (1926-2021)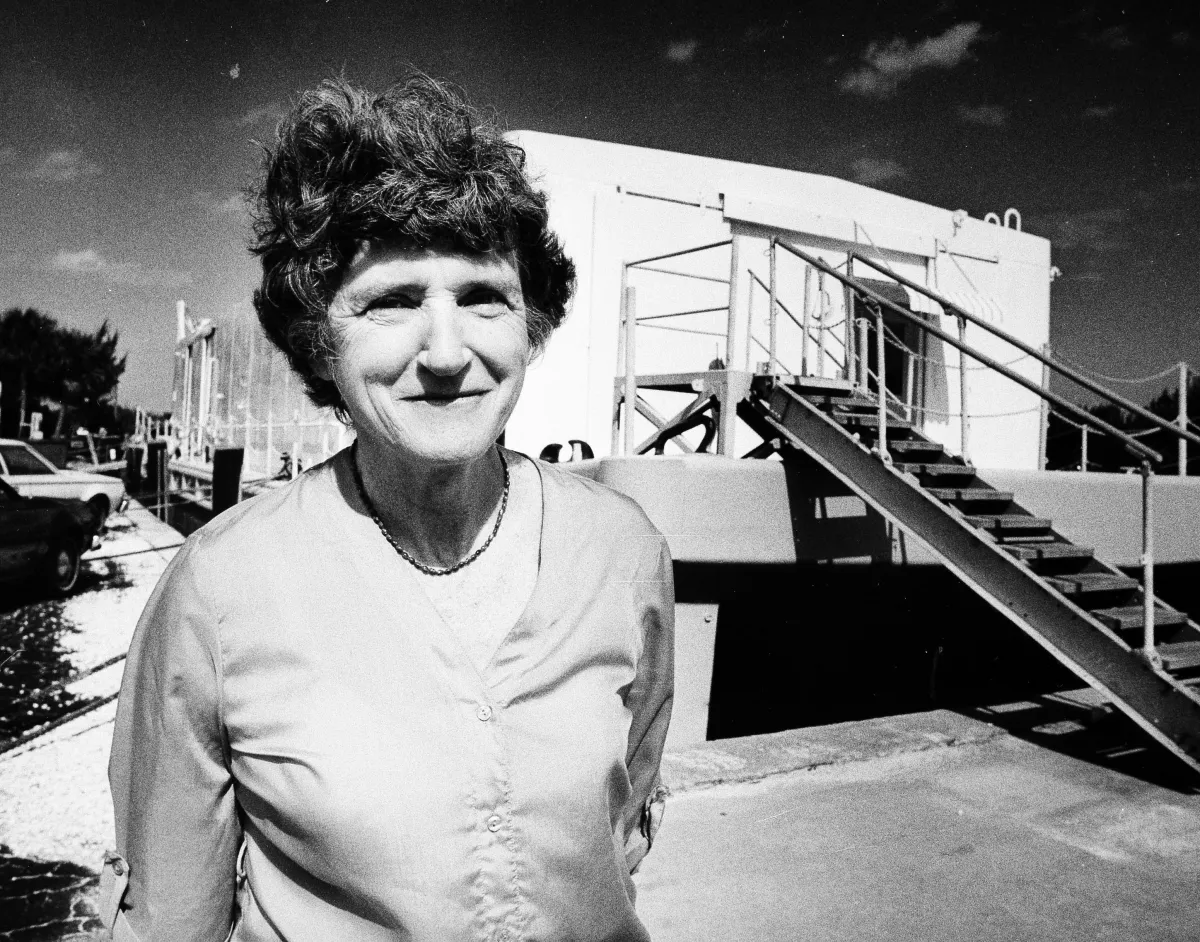 Dr. Mary Esther Rice, Smithsonian Senior Research Scientist Emeritus, passed away on April 29, 2021, at the age of 94. She led an event-filled, illustrious, and giving life on her own terms, to the very end, which can be chronicled here only inadequately in a short remembrance.
Mary, arguably, can be characterized as the most diversely accomplished expert of all time on the marine invertebrate group Sipuncula. In addition, as a founder and long-term Director of the several iterations of a Smithsonian Marine Station at Fort Pierce, Florida, she made a huge impact on the study of living marine life - especially invertebrates and their complex life histories - by facilitating onsite research by many other researchers and trainees from the Smithsonian Institution and from around the globe.
Mary had a long and distinguished career in biology, but not always in marine invertebrate research. Born in Washington, DC, she grew up on a farm in southern Maryland and attended school in Oxon Hill. She earned a B.A. in Biology in 1947 from Drew University in Madison, New Jersey, followed by an M.A. in Zoology, in 1949, from Oberlin College in Ohio. During the following ten years, she taught biology briefly at Drew University, became a Research Associate in the Department of Radiology at Columbia University in 1950, and then accepted a post in 1953 as a General Physiologist at the National Institutes of Health's National Institute of Arthritis and Metabolic Diseases, advancing there to the position of Biologist at the National Cancer Institute in 1955.
Not stopping there, in 1961 Mary enrolled in the University of Washington in Seattle where she completed a Ph.D. in 1966 with the world-renowned invertebrate embryologist Robert Fernald, which started a lifelong association with the University of Washington Friday Harbor Laboratories and friendships with students and luminaries she met there (among them, Paul Illg, briefly a research curator at NMNH). In 1966 Mary was appointed Curator and Research Zoologist in the Department of Invertebrate Zoology at the National Museum of Natural History, the second female so hired by the department (alongside Marian Pettibone).
Mary studied the life histories of marine invertebrates with a special emphasis on Sipunculan worms. In 1967, at the age of 41, Mary's first sipunculan paper was published in the journal Ophelia, "A comparative study of the development of Phascolosoma agassizii, Golfingia pligettensis, and Themiste pyroides with a discussion of developmental patterns in the Sipuncula". Along with many major marine invertebrate groups, Sipuncula suffered from a worldwide paucity of expertise, most of which was focused on taxonomy. Mary, guided by her desire to understand holistically the twists and turns in the evolutionary and current life histories of these worms, quickly became an expert in their systematics, evolution, development, and reproduction, authoring over 80 papers, many of which are landmarks in current understanding of sipunculans.
Through her experience at Friday Harbor, Mary recognized that many other marine invertebrate groups suffered similar academic obscurity, leading her to found the Life Histories research program at Fort Pierce, through which she selflessly mentored 28 postdoctoral fellows (including IZ's Jon Norenburg) as well as innumerable students associated with visiting researchers or sent there by colleagues worldwide - most of whom did not study sipunculans. Upon learning of Mary's death, some of those students remembered her as kind, caring, thoughtful, gracious, and "made the best brownies". Legend has it that, on occasion, administrators who crossed swords with Mary might have used different adjectives. Despite her slight frame and soft voice, Mary was never easily deterred from her purpose, whether in field work or administrative halls.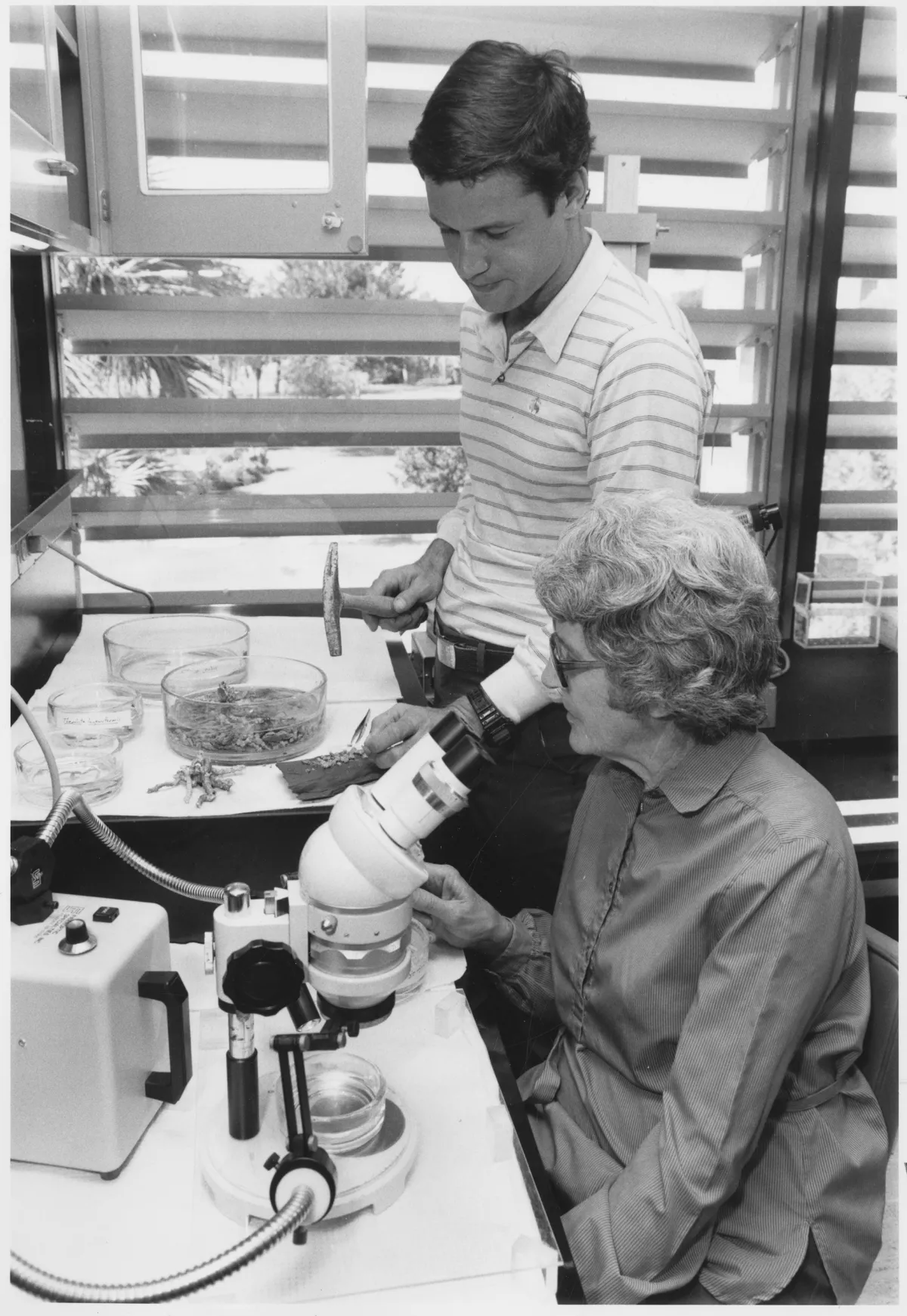 Mary's research and dedication to diffusion of knowledge was recognized by her colleagues, who honored her by persuading her to serve as President of the American Society of Zoologists (now Society for Integrative and Comparative Biology) and as President of the American Microscopical Society. Above all, she worked tirelessly over many years to create a center where Smithsonian staff, researchers and students worldwide could convene and actually get their hands on living marine life to further pursue their research aspirations. In 1972 her vision was initiated with establishment of the Fort Pierce Bureau of the Smithsonian Institution, followed by the Smithsonian Marine Station at Link Port in 1981 on the campus of Harbor Branch Oceanographic Institution. Many colleagues, visiting researchers and postdoctoral fellows have "fond" memories of "the barge" at Harbor Branch, which served as the Smithsonian's principal laboratory space (a few researchers still, proudly, carry scars on their heads imparted by the barge's low steel girders). In 1999, after many years of dogged effort - convincing SI administrators and raising funds - Mary was instrumental in SI acquiring the land and then supervising the move of the station to a newly constructed 8000 square-foot laboratory now known as the Smithsonian Marine Station at Fort Pierce (SMSFP). Mary served as the Director of SMSFP from 1981 until her retirement in 2002 after 36 years at the Smithsonian Institution.
When Mary stepped down from the director position at SMSFP in 2002, her colleague and dear friend Dave Pawson had this to say, "Mary approached formidable hurdles with endless patience and dedication. She has built far more than a group of buildings; she has also created a unique atmosphere, and a monumental tradition of excellence in marine science. All of us who have been privileged to know Mary over these years, and to work with her in various roles... we know this place as Mary Rice's marine lab."
Mary also played an integral role in developing the Smithsonian Marine Ecosystems Exhibit at the St. Lucie County Aquarium. Working with St. Lucie County administrators, she was able to arrange the transport of coral reef specimens from the National Museum of Natural History in Washington, DC to Ft. Pierce, Florida to be showcased in the Atlantic coral reef tank in the Exhibit. The Smithsonian Marine Ecosystems Exhibit at the St. Lucie County Aquarium opened in August 2001 and has been a center for Florida marine ecosystem education and research since.
Even after retirement Mary remained very active and connected to the Natural Museum of Natural History.  As traditional evolutionary developmental biology morphed into "evo-devo" with the flowering of molecular genetics in the 1990s, rather than resting on her laurels, Mary joined forces with relevant experts, students and postdoctoral fellows to bring these tools to the study of sipunculans. In 2019 at the age of 91, she co-authored her final paper, "Developmental architecture of the nervous system in Themiste lageniformis (Sipuncula): New evidence from confocal laser scanning microscopy and gene expression," published in Journal of Morphology. That same year she was also awarded the A.O. Kovalevsky Medal for extraordinary achievements in evolutionary developmental biology and comparative zoology by the St. Petersburg Society of Naturalists.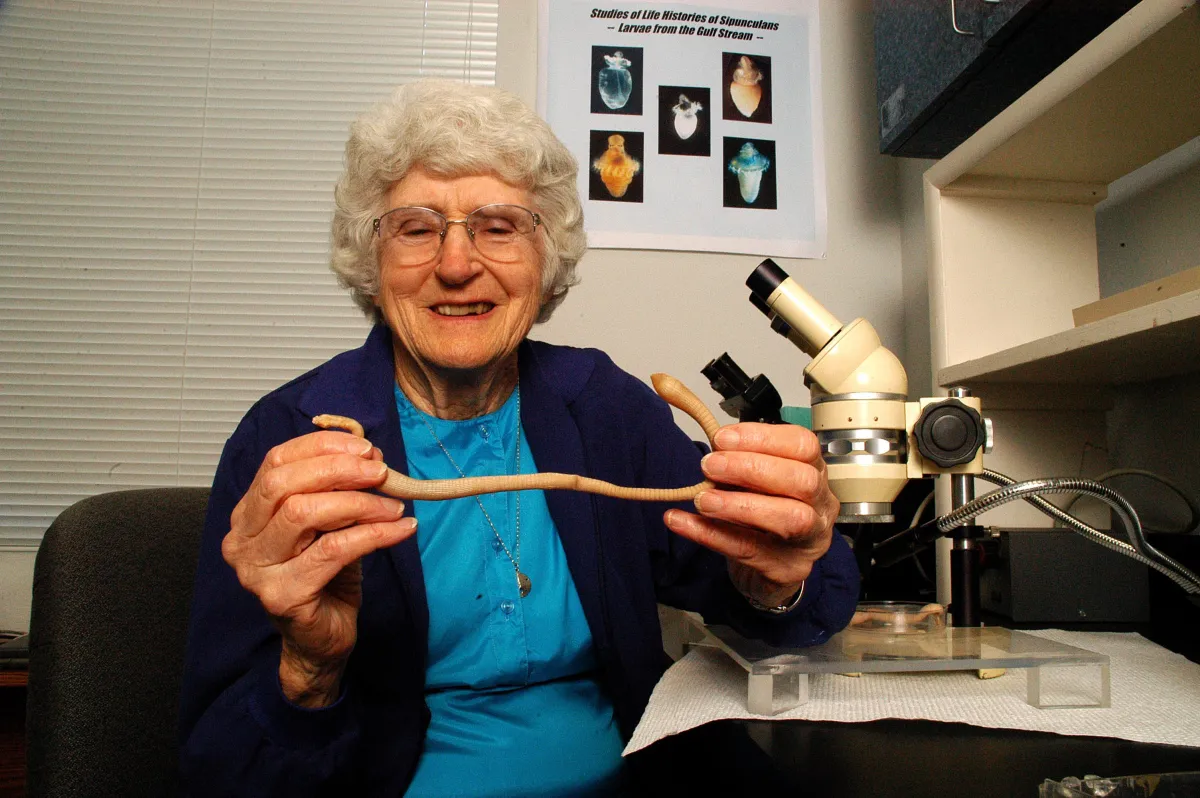 Ever the mentor, Mary continues her mission to support the ambitions of aspiring research scientists via her generous donation to establish the Mary E. Rice Life Histories Endowment. This endowment will help sustain the Life Histories program at the Smithsonian Marine Station at Fort Pierce and support future research on marine invertebrates. As Mary proclaimed, "with help, future generations will discover essential reasons for the study and protection of global marine life".  
Mary's vision and commitment to mentoring has enabled multiple generations of scientists to pursue knowledge and provide invaluable contributions toward a better understanding of our natural world.