Smithsonian National Museum of Natural History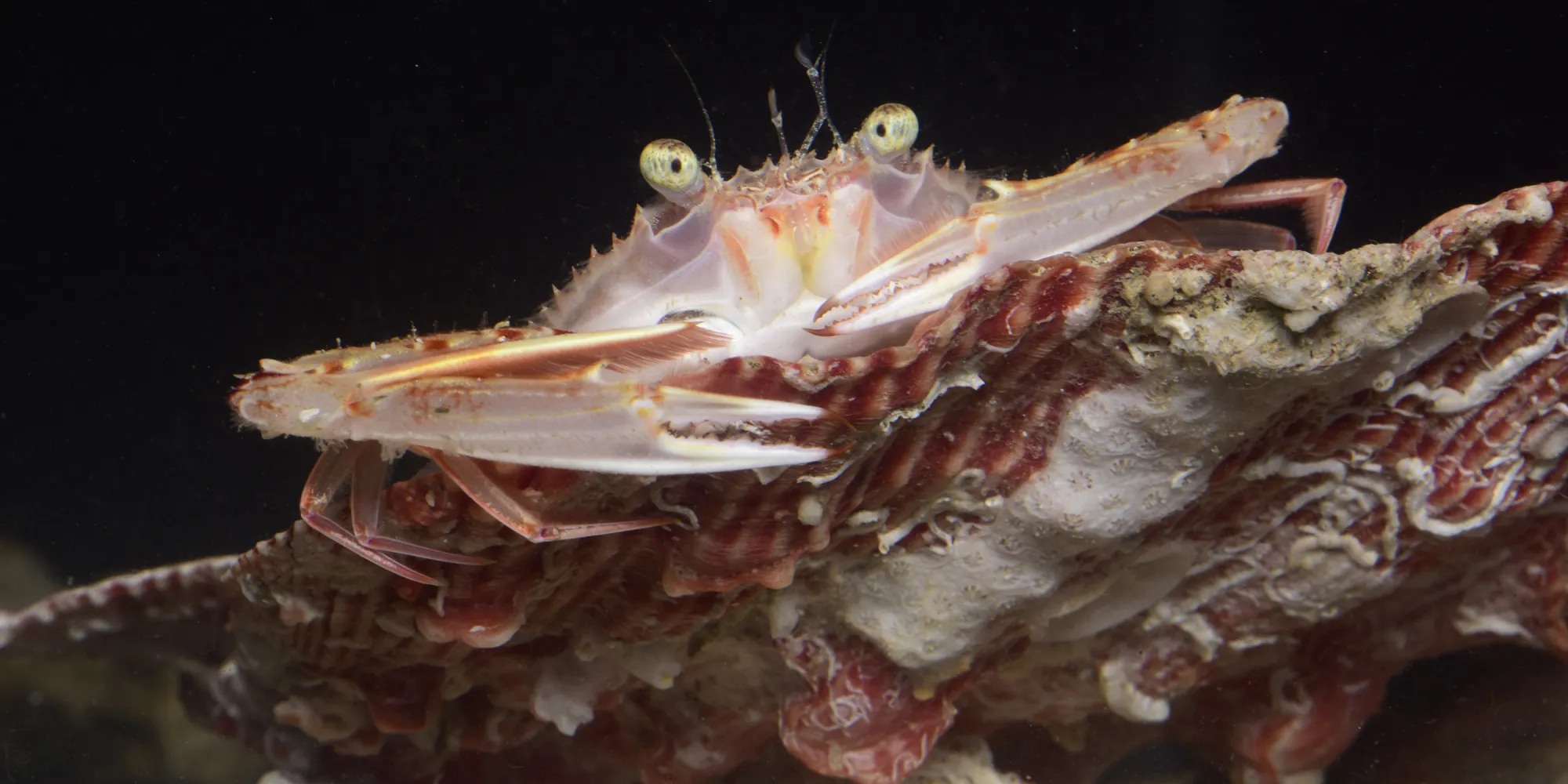 Department of Invertebrate Zoology
Deep Sea Doppelgangers: SpongeBob and Patrick Spotted
Written by Adam Stergis & Rose Gulledge
The larger-than-life underwater cartoon character, SpongeBob SquarePants, has recently come to life! A strikingly similar real-life counterpart was recently found off the East Coast of the United States, along with his best friend Patrick Star.
The National Oceanographic and Atmospheric Administration (NOAA) recently deployed deep sea remotely operated vehicles (ROVs) while aboard the research vessel Okeanos Explorer to map the sea floor along New England and the Corner Rise Seamounts. During this expedition, 25 ROV missions were carried out to gather a wealth of information on these deep-sea communities among underwater mountains. While reviewing footage from the Retriever Seamount dive, Christopher Mah, a sea star expert at the National Museum of Natural History (NMNH), saw an interesting scene that caught his eye: a large, square, bright yellow sea sponge sitting next to a decidedly pink starfish. Could this be a something from Bikini Bottom featuring the iconic Nickelodeon duo, SpongeBob SquarePants and Patrick Star?
I spoke to Chris about this find and he was particularly struck by the sea sponge's color, as this genus of sponge (Hertwigia) is typically more of an orange or white color and not usually the bright yellow we associate with dish sponges and cartoons. Additionally, the relationship between real-life starfish and sea sponges is a bit different from the way it's portrayed in the cartoon, as Chris assured me that the pictured starfish was almost certainly intending to eat that sea sponge.
We also touched on the overall impact that the SpongeBob SquarePants series has had as a whole and how remarkable that this popular cartoon of the past two decades has showcased invertebrates so prominently. This effect is reflected in the explosive wave after Chris's original tweet: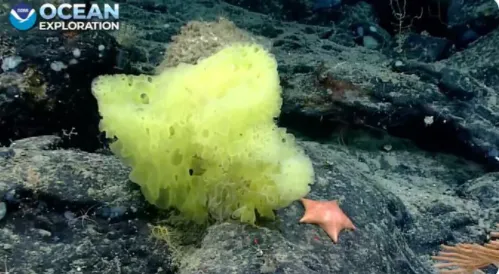 *laugh* I normally avoid these refs..but WOW. REAL LIFE Sponge bob and Patrick! #Okeanos Retreiver seamount 1885 m pic.twitter.com/fffKNKMFjP

— Christopher Mah (@echinoblog) July 27, 2021
Over one million views later, Chris is still taken aback by the enthusiasm his post has garnered. And he welcomes the attention if it brings awareness to deep sea habitats that scientists are still studying. Most people will never get to see these brightly colored animals that live at nearly 2000 meters below the surface in total darkness.
In a time with so much uncertainty and stress, he is elated to see just how many smiles and positive interactions his tweet has brought to people all over the world. Though SpongeBob and Patrick's real-life analogs may not exactly be Best Friends Forever, this cartoon series about a square sea sponge and pink starfish has left a huge splash online.
Congratulations to Chris and NOAA for this find that has stirred up some much welcome positive energy!