Smithsonian National Museum of Natural History
Image

What Are They?
Periodical cicadas are insects that spend most of their lives underground as nymphs, feeding off the sap of tree roots. They emerge to transform into adults and mate. Some periodical cicadas emerge every 13 years and others emerge every 17 years. The males "sing" by vibrating a membrane on the sides of their bodies.
After mating, the female makes slits in tree branches and lays eggs there. The eggs hatch six to seven weeks later, the nymphs fall to the ground and go into the soil, and the cycle begins again. The adult periodical cicadas only live three to four weeks.
Billions of Cicadas Will Emerge in Eastern U.S. in Spring 2021
Periodical cicadas emerge in groups called broods. In May 2021, Brood X (pronounced "Brood Ten") will emerge in 15 states in the Mid-Atlantic and Midwest. There will be billions of Brood X cicadas, maybe even one trillion! Don't worry, they don't bite.
Teaching Resources: Natural History of Cicadas
We have compiled a collection of digital resources and experiences to explore the natural history of cicadas and this year's emergence of Brood X. The resources are all complementary, aiming to help students, teachers, and anyone interested learn a bit more about cicadas. 
The interactive module linked at the top is the most robust experience, and integrates the other digital media resources that are also listed on this page. And don't forget to mark your calendar so that you can bring your cicada questions to Entomologist Floyd Shockley on "Smithsonian Science How," May 26. See below for more details and a link to register.  
Interactive Lesson

Understanding a cicada's life history can help quell fears about them and even spark curiosity and interest in them. This interactive module, The Natural History of Cicadas, will provide learners with an overview of the natural history of cicadas through videos, audio, images, graphics, and text. Each section of the lesson concludes with a fun interactive that reinforces learning, helping your learners gain these skills:
Sort basic natural history statements about cicadas as true or false 
Match each life cycle stage to the correct description 
Recall what a cicada eats and identify the type of mouthparts a cicada has 
Identify a periodical cicada from an annual cicada and recall how much time it spends underground
Sort statements about periodical cicada emergence events as true or false 
Cicada Life Cycle
There are about 3,000 species of cicadas worldwide and they all have a similar life cycle. This video provides a brief overview.
Handout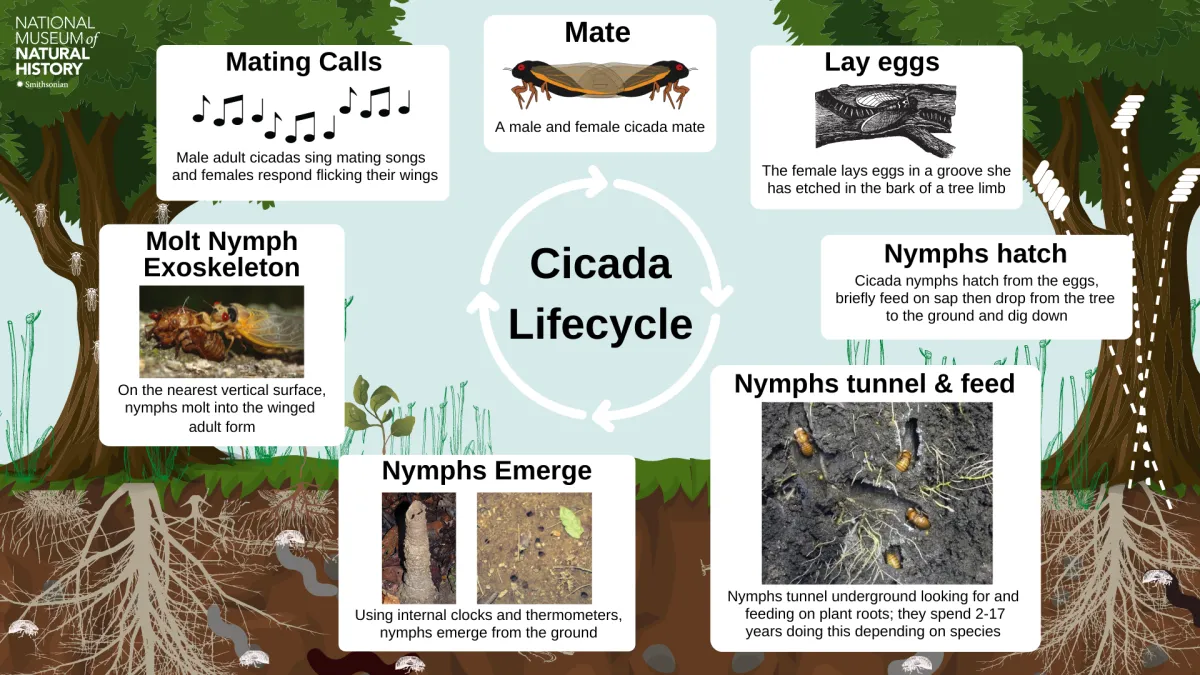 Download the handout below.
Podcast: Natural History in Your Backyard – Cicadas and Brood X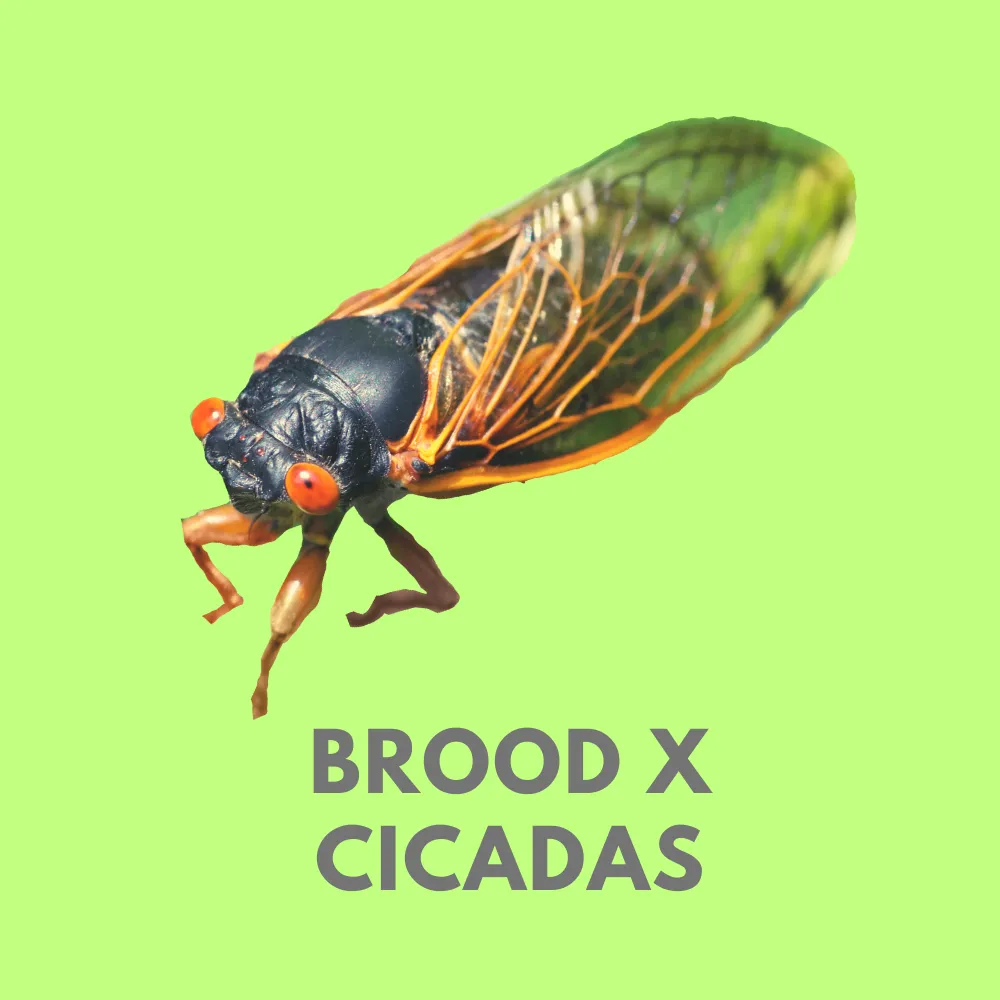 Feeling curious, nervous, or excited about the cicada emergence? This podcast is for you! Learn about cicadas and the Brood X emergence directly from an expert: Smithsonian Entomologist Floyd Shockley. The podcast was moderated and produced by museum educator Maggy Benson.
Part 1: Natural history of cicadas, the Brood X emergence, and cicada adaptations
Part 2: How museums collect cicadas and you can track cicadas, too!
Part 3: What to expect with this year's Brood X emergence
Visit the Cicada Safari App webpage to learn more about tracking cicadas and using the app that Floyd mentioned in the podcast! 
Webinar Video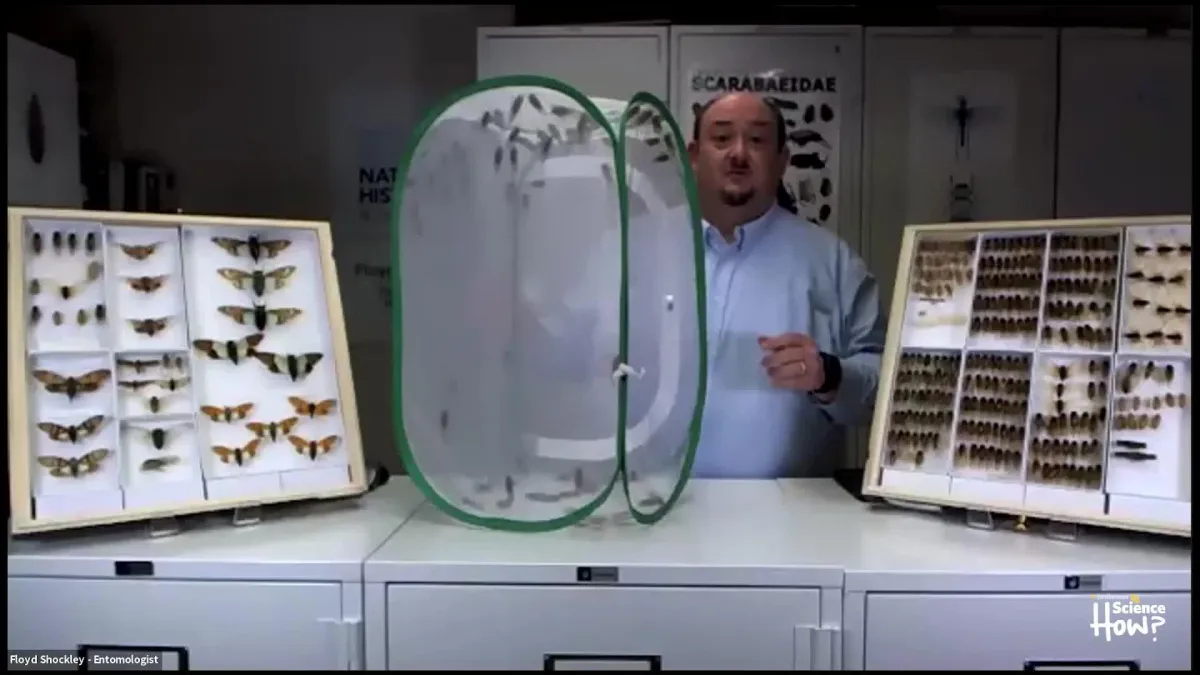 Brood X, one of the broods of periodical cicadas that spends 17 years underground as nymphs, began to emerge in the Eastern United States in May 2021. Billions, perhaps even close to a trillion cicadas will emerge as part of the 2021 emergence of Brood X (10). In this video, Smithsonian Entomologist Floyd Shockley teaches us about these cicadas, their special adaptations and life cycle and unique things about their natural history that you may not have known. Floyd joins us from the National Museum of Natural History, where he shows viewers live cicadas and cicadas preserved in the Smithsonian's Entomology collection. This Zoom webinar aired May 26, 2021. Watch the cicada webinar video.
Related Resources
Credits
Image at top of page by James St. John, CC BY 2.0 via Flickr. Cicada Origami by Jacque Lynn Davis, CC BY-NC 2.0 via Flickr; original origami image edited to read "17 year cicada" instead of "13 year cicada."