Smithsonian National Museum of Natural History
Field Book Activity: Making and Recording Observations
Overview
Field books are original records of scientific discovery. They are scientific tools to make and record observations. Anyone can use field books, not just scientists!  
This field book activity provides a field book template to use or copy, an overview of what a field book is, and guidance for facilitating the use of field books for your learners.  
Purpose of a Field Book  
Field books are a tool to make and record observations for future study and for sharing information with others. Each field book entry is like a piece of scientific data, recording an observation at a specific place and time.  
Field books are primary source material that describe a range of information, including: 
Date, location, time, observer 
The activities performed during the observation of wildlife, plants, fungi, or other natural history object,  
The native environment for those specimens, and  
Events surrounding or related to the field collection of specimens or observations during field research. 
Doing the Field Book Activity 
Instructions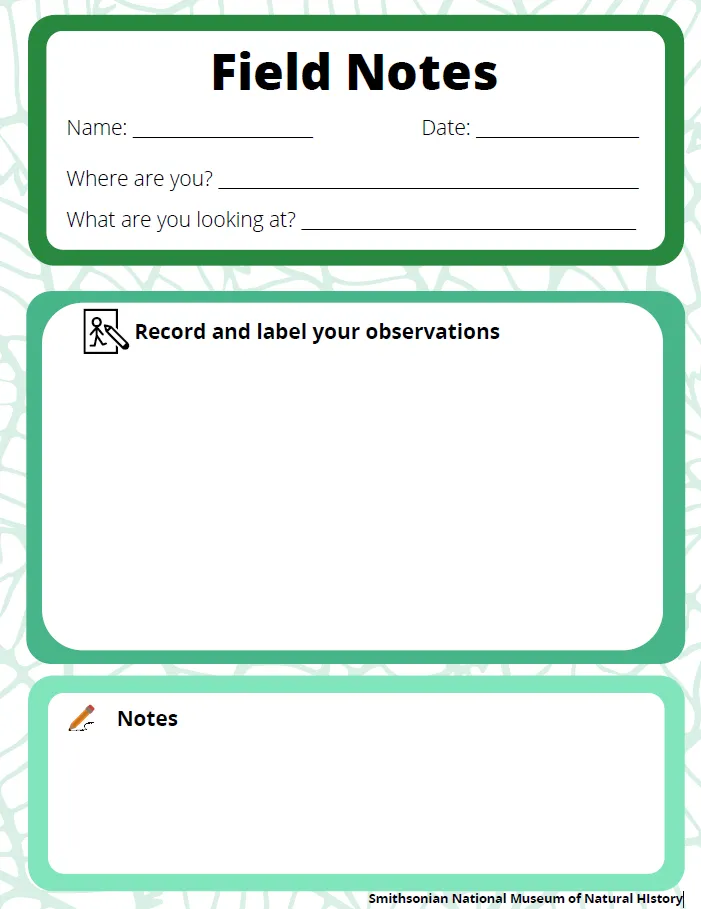 Use the field notes worksheet as a way for your learner to record what they are observing. Information related to the setting and topic of their observation can go in the first box. 
Invite learners to make a drawing of their observation in the second box, adding in as many details to their drawing as possible. They can also add color and label parts of their drawing to help someone understand what they have observed.  
The last box is a place to write notes. Encourage your learner to include any details they cannot show in a drawing in their notes section as well as any questions they still have about their subject.  If your learner is not yet comfortable or able to write or draw, work together to complete the field note page, inviting the learner to share what they see while you take notes. 
Additional Guidance for Facilitating the Activity
Here, we've provided guidance for facilitating this activity. It can be used in practically any scenario! It can be an activity conducted individually, as a class, as a family, as a camp group, or any other kind of group!   
We've generalized this guidance for anyone overseeing the learning experience, an instructor, parent, caregiver, peer, or anyone else.
Resource Type
Hands-On Activities
Grade Level
K-2,
3-5,
6-8